Batch Weighing Controller, 12 Ingredients or Components (ADW-BW)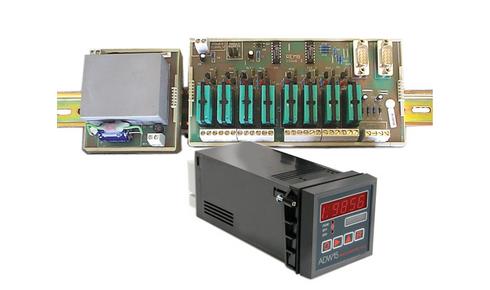 For batch control up to 12 components or ingredients
Optional 10 menu selection
Selectable batch totals
Mixer timing control
Stand alone or PLC operation
Provides excitation of 10 V @ 160 mA to drive up to 6 x 350 Ohm load cells
Variable gain input sensitivity from 0.5 to 200 mV/V
6 wire input to compensate for zener barrier and cable losses
Simple one pass auto calibration for minimum set-up time on site
The ADW-BW 12 batch weighing controller adds the capability to manage and control up to 12 different components or ingredients, that can be combined into 10 seperate menus (or products). Standard facilities include the control of quantities, mix times, settling times and processing times, and the reporting of all activities via a printer link.

The ADW-BW can operate as a stand alone controller or full remote control can be affected from a PC or PLC, and a printed record of activity can be taken.
Batch Controller System Description
The batch weighing controller is based upon the load cell indicator controller ADW15 and the REM 8 multi set point DIN rail units
A special software program in the ADW15 makes provision for the mixing of up to 12 components into one mixing vessel
Each of the components is controlled by values selected under mnemonics entered from the keypad of the ADW-BW
A BCD switch with REM16I allows for the selection of up to 10 menus. The range of mnemonics include set points and in-flight compensation valves which, when programmed set the conditions for a relay to operate, controlling the operation of valves and therefore the amount of component from each feed into the mixer/weigh vessel.
A batch weighing control mnemonic 'bt' provides a batch total which controls the desired number of mixes from the components feeds. This value can be set from 1 to 255 batches.
The components mix time can be set from between 0 to 19999 seconds, by the setting of the mnemonic 'tl', before a discharge is activated.
Auto calibration of the ADW15 controller is achieved by 'low' and 'high' calibration point settings.
Further mnemonics allow for a display averaging and decimal point position, and settle time figure before call of the next component.
Calibration
Automatic digital by use of keypad and 1 (or 2) known weights. Manual calibration can also be selected
Sensitivity
Preset via DIL switches between 0.5 to 200 mV/V
Excitation
10 V DC nominal, 150 mA maximum
Compensation
By ± sense wires to compensate for cable, connection volt drops and any variation in 10 V supply
Accuracy
90 days ± 0.08% of reading ± 0.05% of FSD typical
Drift
0.002%ºC typical @ 2.5 mV/V
Display Rate
0.1 seconds for standard update
Input Average
Set by keypad up to 64 standard updates
Display
1 x 4.5 digit, high brightness, 10 mm Red LED, 2 x 3mm LED's for SP1 and SP2 status, 1 x 3mm LED for hold
The Relay Output Modules
The module consists of 8 relays rated at 230 volts 5 Amps - SPCO, Alarm via 30 V 50 mA NC contact, DIN rail mounted for a G or top hat profile. Each relay is plug-able and connections are made by 2.5mm field screw terminals.
Indication of relay status is shown by LED's. Trip points volt free contact. The module can be situated up to 2 metres from the ADW15 load cell indicator controller.
Environmental
CE Environmental Approvals
European EMC Directuve 2004/108/EC, Low Voltage Directive 2006/95/EC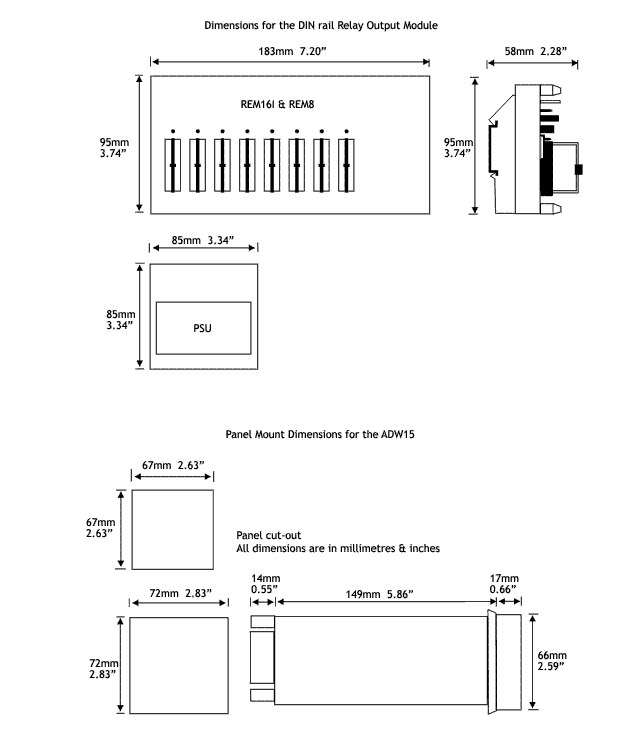 Software
No relevant software available
Product order options
Please read the following before selecting the options for this product:
ADW15 fitted with Special Edition software, a dedicated relay to operate a system alarm condition. A remote driver and an 8 Relay remote DIN rail mounted module and REM PSU.
Starting with the base model ADW-BW, select the options that you need to configure the device to meet your needs.
| Base Unit | Code |
| --- | --- |
| ADW-BW | ADW-BW |
| Comms | Code |
| RS485/232 Communications for MODBUS RTU, ASCII MANTRABUS | COM 1 |
| Power Supplies | Code |
| 110V, AC 50/60 HZ | 110 |
| 230V, AC 50/60HZ | 240 |
| Supply 12/24V DC | 12/24 |
| Mounting | Code |
| Panel Mount | P |
| DIN Rail | D |
| Accessories | Code |
| Additional REM8 for 12 Component Weight | REM8 |
| Menu Selection I/O Module | REM16I |
| REM to REM interconnecting cable. Required for each additional REM 4/8 unit | REMC2 |
Weighing Indicator/Controller for Loss in Weight
ADW-LW

Weighing Indicator | Controller for Fast Fill Operations
ADW-FFW

Weighing Indicator Controller with up to 16 Set Points
ADW-SP16