Versatile Indicator / Controller with up to 16 Set Points (ADP-SP16)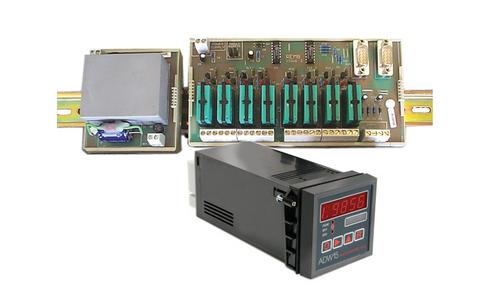 Up to 16 set point relays (Rating 230V @ 5A AC)
All settings programmable from ADP15 keypad
Individual programmable setpoints & hysteresis values
Wide choice of input modules with transducer excitation
Industry Standard Analogue Outputs
Data Communications, Printer Driver
AC or DC power supply options
The ADP-SP16 Versatile Indicator / Controller has up to 16 relay Set Points and a wide range of input options including, volts, amps, temperature, frequency, speed, load, force, pressure, torque, LVDT and many more.

The digital architecture offers very easy one-pass calibration and fast setup. This versatile amplifier panel meter offers options of isolated analogue outputs, latching relays or digital outputs for control or alarm functions.

The RS232 or RS485 options provide for digital communications (including setup) and can support label or ticket printers
Inputs
Temperature - PT
Resist Bulb PT100
T1
Thermocouple Type K
T2
Thermocouple Type J
T3
Thermocouple Type R
T4
Thermocouple Type S
T5
Thermocouple Type T
T6
Thermocouple Type B
T7
Thermocouple Type N
T8
Thermocouple Type E
DC Voltage
±20mV, ±200mV, ±2V, ±20V, ±200V
DC Current
±2mA, 4 to 20mA (+3.5 to 20.5mA) with 24 V excitation, ±20mA, ±0200mA
AC Voltage
0-200mV, 0-2V, 0-20V, 0-200V
AC Current
0-1A
Potentiometer
Any value in the range 100R to 10K V AC
Rate & Totaliser Inputs
MV, 5V logic & NAMUR
Pressure
Excitation 40mA @ 10V
Accuracy
90 days ± 0.08% of reading ±0.05% of FSD typical
DC Analogue Outputs
DC Voltage
0 to 1V, 0 to 5V, 1 to 5V, 0 to 10V, -10 to +10V, Max Current out 50mA
DC Current
0 to 1mA, 0 to 20mA, 4 to 20mA, 10 to 50mA,0 to 5mA, Max Voltage out 20V
Accuracy
Typical ± 0.08% of output, ± 0.08%FSD
Resolution
As display resolution, max 15 bits
Calibration
By 15-turn pre sets for gain and offset
Inversion
By keypad value
Isolation
±130V RMS or DC max to analogue input or to any other port
Ranging
Fully keypad scalable over desired display range
Communication Port CP Operation
All ADP15 display data can be accessed via the communications port along with relay, PID power and EEPROM status.
All ADP15 user configurable data can be changed including EEPROM enable/disable and relay reset.
Type
Details
RS232
For printer or direct connection to 1 device, 3 wire
RS485/422
For up to 32 instruments on 1 bus, 4 wire
Baud Rates
300, 600, 1200, 2400, 4800, 9600 (19200 MANTRABUS only)
Electrical Isolation
±130V RMS or DC max to analogue input or any other port
Formats
MANTRABUS and printer output formats
The Relay Output Module
The module consists of 8 relays rated at 230 volts 5 Amps - SPCO, Alarm via 30V 50mA NC contact, DIN rail mounted for a G or top hat profile. Each relay is plug-able and connections are made by 2.5mm field screw terminals.
Indication of relay status is shown by LED's. Trip points volt free contact. The module can be situated up to 2 metres from the ADW15 load cell indicator controller.
Alarm/Control Outputs
SPCO
Up to 16 relays, in multiples of 4, REM4 & REM 8
Relays
230V at 5A AC resistive
Isolation
±130V RMS
Keypad Programmable Options
Hysteresis, Latching, Output Inversion
Power Supplies
220V-230V AC 50-60Hz 10W, 110V-120V AC 50-60Hz 10W, 9-32V DC 10W isolated
Controls
4 membrane panel keys with tactile feedback. 1 scroll key to view/update parameter. 1 digit select key. 1 digit increment key. 1 reset key. Keypad disable by internal links behind front panel. Hold function by digit select key when in input mode.
Data Retention/Protection
Retention:
10 years for set up values, minimum of 100,000 write cycles.

Protection of Data and Function(s)

Watchdog timer giving repeat auto resets. Impending power detection and hold off. Keypad security and time out.
Physical
Case Dimensions
DIN 72 x 72 x 163mm (excluding mounting terminal)
Case Material
Grey Noryl, flame retardant
Weight
750 grams
Terminals
2.5mm, saddle field terminals
Accessibility

All electronics removable through front panel leaving field wiring and case in situ.
Environmental
Storage Temperature
-20 to +70ºC
Operating Temperature
-10 to 50ºC
Relative Humidity
95% maximum non condensing
CE Environmental Approvals
European EMC Directive 2004/108/EC, Low Voltage Directive 2006/95/EC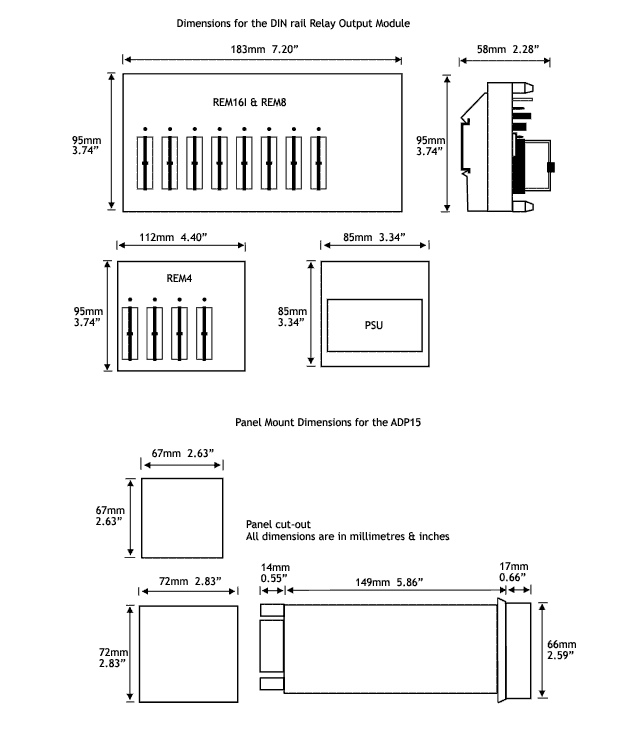 Software
No relevant software available
Product order options
Please read the following before selecting the options for this product:
ADP15 fitted with special edition 16 Set Point Software with remote driver module to operate the optional 4, 8, 12 or 16 relay remote Din Rail mounted modules, as required. The required number of relay modules must be ordered from the Accessories Section.

Starting with the base model ADP-SP16, select the options that you need to configure the device to meet your needs.
| Inputs | Code |
| --- | --- |
| Temperature - Resist Bulb PT100 | PT |
| Temperature - Thermocouple Type K | T1 |
| *Limited stocks* Temperature - Thermocouple Type S | T4 |
| *Limited stocks* Temperature - Thermocouple Type R | T5 |
| *Limited stocks* Temperature - Thermocouple Type N | T7 |
| *Limited stocks* Temperature - Thermocouple Type E | T8 |
| DC Volts - ±200mV | DCV2 |
| *Limited stocks* DC Volts - ±2V | DCV3 |
| DC Volts - ±20V | DCV4 |
| DC Volts - ±200mV | DCV5 |
| DC Volts - ±200mV | DCV2 |
| DC Current Input - I/P 4-20mA (+3.5 to 20.5mA) with 24V Excitation | DCA2 E |
| *Limited stocks* DC Current Input - ±20mA | DCA3 |
| DC Volts - ±20V | DCV4 |
| *Limited stocks* AC Volts - 0-20V | ACV3 |
| *Limited stocks* AC Volts - 0-200V | ACV4 |
| *Limited stocks* AC Current - 0-1A | ACA |
| Potentiometer 100R - 10K | RL |
| Outputs | Code |
| *Limited stocks* Analogue - 0-1V | V1 |
| Analogue - 0-10V | V4 |
| *Limited stocks* Analogue - 0-100mV | V5 |
| *Limited stocks* Analogue - 0-1mA | A1 |
| Analogue - 4-20mA | A3 |
| Comms | Code |
| RS485/232 Communications for MODBUS RTU, ASCII MANTRABUS | COM 1 |
| Power Supplies | Code |
| 230V, AC 50/60HZ | 240 |
| 110V, AC 50/60 HZ | 110 |
| Supply 12/24V DC | 12/24 |
| Mounting | Code |
| Panel Mount | P |
| DIN Rail | D |
| Accessories | Code |
| Din Rail Mounted 8 Relay Module | REM8 |
| 4 relay unit | REM4 |
| Remote Power Supply Unit 110V or 230V AC ( this unit is only required when operating more than 4 relays ) | REM PSU |
| REM to REM interconnecting cable. Required for each additional REM 4/8 unit | REMC2 |

Weighing Indicator Controller with up to 16 Set Points
ADW-SP16

Weighing Indicator with Analogue Data & Relay Outputs
ADW15

Indicator For Temperature, 0-10V, 4-20mA, Speed and Potentiometer
SMP