Weighing Indicator | Controller for Fast Fill Operations (ADW-FFW)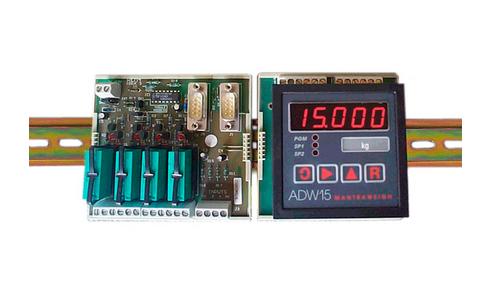 For fast fill accurate control
Fast 100 updates per second input
Fast & slow feeds
System speed optimisation
Auto tare
Auto calibration
Auto 'In Flight ' compensation
'Weight complete' output
Stand alone or control with PLC
The ADW-FFW Weighing Indicator is the ideal solution for control of high speed and high accuracy filling by weight for strain gauge or load cell applications. Either in a stand alone mode or in conjunction with a PLC.

Operation:
On receipt of the start fill signal weightment is auto tared, and the relay contacts for fast and slow speed are closed, The system is optimised by a routine to ensure that, fast feed is held as long as possible.
In-flight compensation is applied to the slow feed and automatically adjusted to minimise final error.
When pre set values are reached, contacts turn off the fast and slow feeds.
A 'weight complete' signal is given when within pre selected setting values and time, Auto Tare will take place only when the value falls within a pre set auto tare band.
Input Details
Calibration
Automatic digital by use of keypad and 1 (or 2) known weights. Manual calibration can also be selected
Sensitivity
Preset via DIL switches between 0.5 to 200mV/V
Excitation
10V DC nominal, 150mA maximum
Compensation
By ± sense wires to compensate for cable, connection volt drops and any variation in 10V supply
Accuracy
90 days ± 0.08% of reading ± 0.05% of FS typical
Drift
0.002%ºC typical @ 2.5mV/V
Input Filter
Programmable to average up to 64 display updates
Output Details - The Relay Module (REM4)
The module consists of 4 relays rated at 230 volts 5 Amps - SPCO, DIN rail mounted for a G or top hat profile. Each relay is pluggable and connections are made by 12.5mm field screw terminals. Indication of relay status is shown by LED's.
The module can be situated up to 2 metres from the ADW Strain Gauge Controller.
Totaliser Output
Fast pulse for electronic counter output of 1 pulse per digit of 'Bagged' material.
Communications & Printer Port
RS485, RS232 set for Comms or Printer Port.
Power Supplies
220V-230V AC 50-60Hz 10W, 110V-120V AC 50-60Hz 10W, 9-32V DC 10W isolated
Base ADW15
Displays
7 segment LED 4.5 digit 10mm.3 x 3mm LED's 2 for relay status, 1 for program and hold indication.
Controls
4 membrane panel keys with tactile feedback. 1 scroll key to view/update parameter. 1 digit select key. 1 digit increment key. 1 reset key. Keypad disable by internal links behind front panel. Hold function by digit select key when in input mode. Option for Menu selection using REM16i.
Data Retention/Protection
Retention
10 years for set up values, minimum of 100,000 write cycles.
Protection of Data and Function(s)
Watchdog timer giving repeat auto resets. Impending power detection and hold off. Keypad security and time out.
Environmental
Storage temperature
-20 to +70ºC
Operating temperature
-10 to 50ºC
Relative humidity
95% maximum non condensing
CE Environmental Approvals
European EMC Directive 2004/108/EC, Low Voltage Directive 2006/95/EC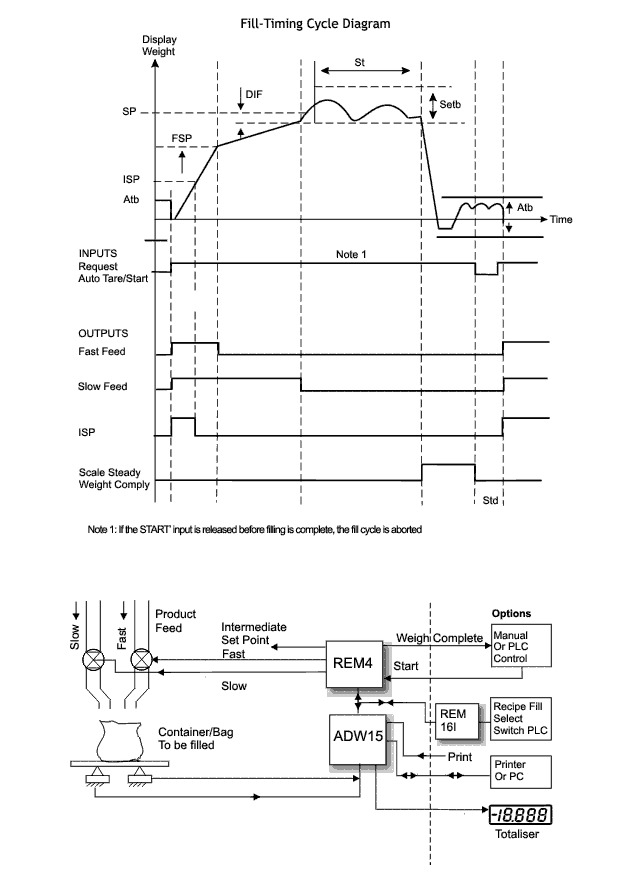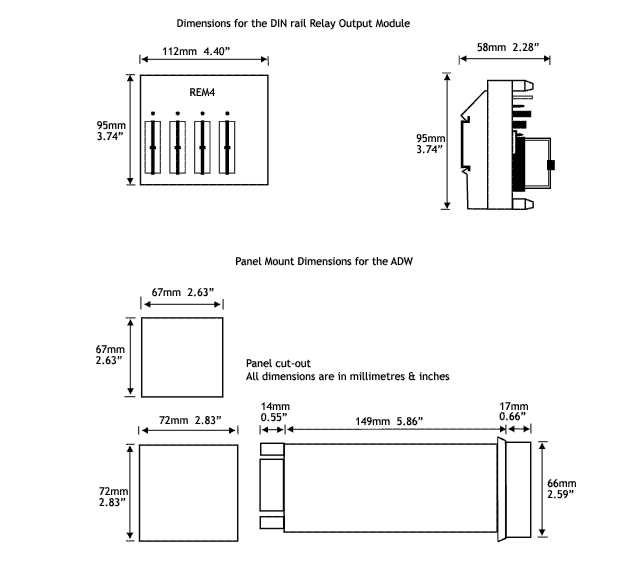 Documents
Software
No relevant software available
Product order options
Please read the following before selecting the options for this product:
ADW15 fitted with a Fast Load Cell input and special edition software and relay driver for a separate DIN rail mounted 4 relay module (REM4 supplied).
Starting with the base model ADW-FFW, select the options that you need to configure the device to meet your needs.
| Base Unit | Code |
| --- | --- |
| ADW-FFW | ADW-FFW |
| Outputs | Code |
| Pulse output module giving totalisation of weight | S96 |
| Comms | Code |
| RS485/232 Communications for MODBUS RTU, ASCII MANTRABUS | COM 1 |
| Power Supplies | Code |
| 110V, AC 50/60 HZ | 110 |
| 230V, AC 50/60HZ | 240 |
| Supply 12/24V DC | 12/24 |
| Mounting | Code |
| Panel Mount | P |
| DIN Rail | D |
| Accessories | Code |
| Menu Selection I/O Module | REM16I |
| REM to REM interconnecting cable. Required for each additional REM 4/8 unit | REMC2 |

Batch Weighing Controller, 12 Ingredients or Components
ADW-BW
Weighing Indicator/Controller for Loss in Weight
ADW-LW

Weighing Indicator Controller with up to 16 Set Points
ADW-SP16