Weighing Indicator and Controller Bulkhead Mounted (SMW)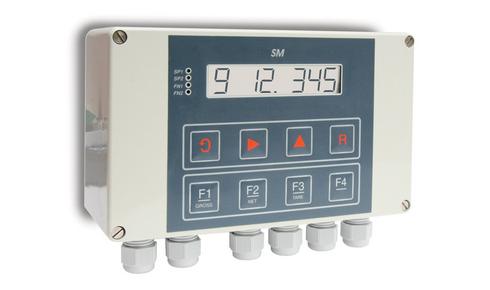 Weighing Indicator with large, high resolution LCD display
10V 160mA excitation for up to 6 Load Cells
Simple one pass auto calibration
2 Set points, SPCO relay outputs
Fully isolated 4-20mA and 0-10V analog outputs
RS232 or RS485 communications
Supports MANTRABUS & ASCII
IP65 / NEMA4 ABS housing for wall or surface mounting
The SMW load cell display and controller is bulkhead mounted for strain gauge or load cell measurement applications, with analog or digital output and relay set point outputs.

The SMW weighing indicator and controller is a very flexible digital indicator and display system in a bulkhead mounting format, optimised for single or multiple load cell and weighing applications.
The digital architecture offers very easy one-pass calibration and fast setup.
This versatile Weighing Indicator and Controller Bulkhead Mounted module offers options of isolated analogue outputs, latching relays or digital outputs for control or alarm functions.
The RS232 or RS485 options provide for digital communications (including setup) and can support label or ticket printers.
Additional Features
Variable gain input sensitivity from 0.5 to 200 mV/V
Auto tare and peak hold actioned by volt-free contacts
Programmable in-flight compensation for dynamic weighing operations
Six wire input for barrier and cable compensation
AC or DC power supply options
Can be used in conjunction with our LCI load cell failure alarm, which is designed to continuously monitor the condition of individual load cells and activate an alarm when faults in the system are detected, therefore providing increased safety and cost savings onsite for all weighing systems.
Inputs
Strain Gauge Input
The input is of the load cell/strain gauge type. A transducer excitation voltage of 9.6 volts @ 160mA
Compensation
by ± sense wires for cable and safety barrier losses down to 3V excitation
Load cell sensitivity
is preset via DIL switches to 0.5, 0.8, 1.0 1.25, 1.5, 2.0, 2.5, 3.5, 5, 10, 20, 50, 100 or 200mV/V
Initial offset
is no greater than ± 0.15mV (15uV/V) which is cancelled during auto calibration
Zero Temperature Coefficient
0.0005% FSO/ºC typical with 2.5 mV/V sensitivity selected
Span Temperature Coefficient
<0.0017% reading/ºC
Excitation
9.6V DC nominal, 150mA maximum
Repeatability
±0.002% reading over 90 days
Display Update Rate
Programmer keypad selectable between 0.1 and 25.5 seconds
Display Average
Set by programmer keypad, up to 64 standard up dates
Measurement Resolution
1:32,000

Analog Output

Type
4-20mA and 0-10V
Drive
4-20mA up to 1Kohm and 0-10 volts up to 2mA

Accuracy
4-20mA + 0.15% of range, typical. 0-10V ±2% before calibration

Resolution
as for display up to 13 bits/4.5 digits. Settling time 350mS to within 1% of step change.
Isolation
±130V RMS or DC max to analogue input or any other port
Fast Analog Output
For use with the UAFLC (FAST INPUT OPTION)

Power Supplies
LS1
110V-120V AC or 220/230V AC 50-60Hz 10W
LS3
9-32V DC 10W isolated
Data Retention/Protection
Retention
10 years for set up values, minimum of 100,000 write cycles.

Protection of Data and Function(s)
Watchdog timer giving repeat auto resets. Impending power detection and hold off. Keypad security and time out.
Other Options & Accessories
2 Set Points
Output through 5A, 230V AC SPCO relays, with programmable latching inversion, hysteresis, In Flight (RL1)
Communications Port

For data transfer or print via :-
20mA Loop
Enabling up to 254 units to be multi dropped to 1 x RS232 via IF25 interface(s)
RS485
Enabling up to 25 units to be multi dropped
RS232
For 1 to 1 connection or standard printer drive

Printer Operation
By front panel function key
Baud Rates
300, 600, 1200, 2400, 4800, 9600 (19200 MANTRABUS only)
DIN Rail Mounting
For the motherboard

DC Powering
9-32V DC

Remote Mounting
Display module, for panel mounting
Back Lighting
For the LCD display
Environmental
Storage Temperature
-20 to +70ºC
Operating Temperature
-10 to 50ºC
Relative Humidity
95% maximum non condensing
CE Environmental Approvals
European EMC Directive 2004/108/EC, Low Voltage Directive 2006/95/EC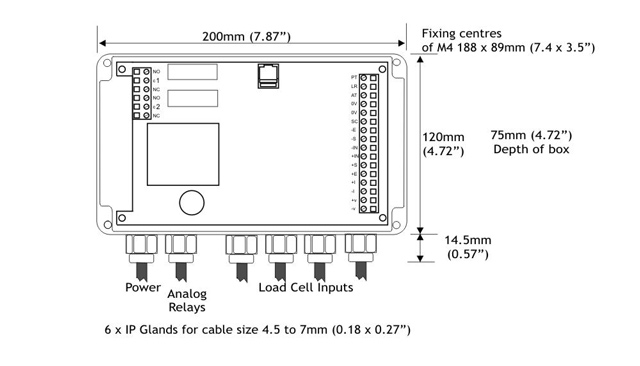 Documents
Software
No relevant software available
Product order options
Please read the following before selecting the options for this product:
The SMW is a PCB is a load cell input module, CPU and Analogue Outputs 4-20mA/O – 10V which can be either ABS Cased or Din Rail mounted.
Note: * For display modules operating over 2 metres from the CPU, contact Sales Department
Starting with the Base Unit select the SMW you require followed by the options you need to configure the device to meet your needs.

| Base Unit | Code |
| --- | --- |
| Cased PCB with load cell input, LCD display (comprising LAC-LCD-LCB) | SMW/C |
| Din Rail mounted PCB, separate panel mounting, LCD, distance *2 meters(comprising LCD-LCS-LCB-D2) | SMW/D |
| Cased PCB, back lit LCD, (comprising LAC-LCD/BL-LCB) | SMW/C/BL |
| Din Rail mounted PCB, remote back lit LCD, distance *2 meters (comprising LCD/BL-LCS-LCB-D2) | SMW/D/BL |
| Inputs | Code |
| High Resolution 19 Bit (Requires UAB15/EX) | UAHRLC |
| Comms | Code |
| RS485/232 Communications supports ASCII & MANTRABUS | LC3 |
| Relay | Code |
| Relay Output Module 2 Set Points (2 x SPCO 5A 240V AC ) | LR1 |
| Power Supplies | Code |
| AC Power Supply 110/120V, or 220/230V AC | LS1 |
| DC Power Supply 9-32V DC | LS3 |
| Display | Code |
| Display PCB for fitting to LAC, ABS Case LCD | LCD |
| Display PCB as (LCD) above with Backlight | LCD/BL |
| Surface Mount Display Board with Driver | LCDR |
| Surface Mount Display Board/ Drv/B Light | LCDR/BL |
| Hand Held Programmer for High Res Input Modules | LP3 |
| Mounting Enclosure | Code |
| ABS Case prepared for PCB with front label (no PCB fitted) | LAC |
| DIN Rail Mounting Fixture | D2 |
| IP65 Rated Case and DIN Rail Mounting for DSJ4, LCA, UAB, JBA, SMW | D3 |
| Extended Mounting | Code |
| Stainless Steel Panel for LCD | LCS |
| Accessories | Code |
| Stainless Steel IP65 Case with Stainless Steel Lid 220 x 160 x 90 mm | LSS |
| Junction Box PCB (only) Passive | JPP |
| Junction Box Active | JBA |
| Junction Box PCB (only) Active | JPA |

Weighing Indicator with Analogue Data & Relay Outputs
ADW15

Indicator For Temperature, 0-10V, 4-20mA, Speed and Potentiometer
SMP

High Resolution Weighing Indicator & Controller
SMW-HR
Q: LCA20 / SMW can they handle tension and compression?

A: Yes

For more 'Frequently Asked Questions' please see our Knowledge Centre