Measuring the Output Power of a Motor
The Problem: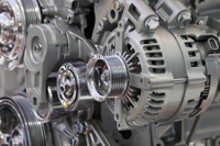 A generator company were looking at a number of motors to potentially incorporate into their generator design. Each motor had rated power outputs but the company wanted to independently measure the power output of the various motors whilst in the generator housing, drawing various loads from the electrical supply
The Solution:
To measure the power of the motors it was decided that they would measure the torque on the shaft between the motor and generator windings and then multiply this by the RPM of the shaft. In order to capture the torque, the shaft was fitted with an inline torque transducer; a T24-SA strain acquisition module was calibrated to output the torque in Nm. The RPM of the shaft was captured using an optic sensor which created a pulse every time a white dot on the shaft passed the sensor; this sensor was coupled to a T24-PA pulse acquisition module which calculated the RPM of the shaft. The manufacturer required readings at 100Hz so each module was set to transmit at 200Hz to allow for radio collisions and ensure at least 100Hz per channel. A Single T24-BSu USB base station was used to collect all of the data, logging using the T24-LOG24. Once the data was logged back to a CSV file the two collected values could be multiplied and the output power calculated.

See overview of solution HERE.

Products used in this application: