Wireless Monitoring of Anchor Loads
The DML Project in Zurich is one of the worlds most exciting and ambitious projects executed by the Swiss National Railway Company SBB. The 1.6 billion SF project centres around the construction of a new station beneath the existing Central Zurich Station and a 5km tunnel which will allow trains to travel from north to south without having to change direction at Zurich Central Station.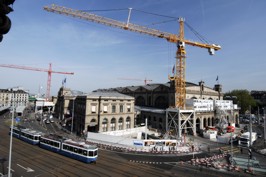 The Problem:
The challenge is for the new station and tunnel to be built without interrupting services at Zurich Central, which has 340,000 daily passengers and at least 2,900 train services a day
The Solution:
Working with the Geotechnical company, Mantracourt's innovative T24 radio telemetry devices are being used to wirelessly monitor the forces exerted upon cable anchors which are holding back concrete retaining walls within a construction pit (see image). The pit will be the start and end point of the tunnel boring machine digging the 5km tunnel and will eventually be 16 metres in depth.
Ground anchor heads, fitted with specialist PRE electrical loadcells, are measuring forces of between 400-700kN pulling on anchor cables. Due to the exposed environment within the pit, Mantracourt's wireless sensing module T24-ACM with strain gauge input unit located close to the anchor head. The T24-ACM has a IP65 protective case with powering to the acquisition module via 2 DCell batteries. The low power requirements of the acquisition modules mean that data can be provided well beyond the shelf life of the batteries, e.g over five years. Data is transmitted on license-free 2.4GHz frequency from the acquisition modules to a T24-BSi industrial base station located 50 metres away at an access point which has mains power and Internet connection. Here the industrial base station acts as the receiver and is linked to a PC via RS485 cabling. By logging the data to a log file, the monitoring firm can access this data remotely via the Internet, gathering live data from an entirely remote location across the city.
Should it be required, a T24-HS handheld display could be used by personnel visiting the construction pit to gain readings from each of the acquisition units positioned within the pit.

Products used in this application: