Wireless Monitoring of Bridge Structures
Highway agencies and bridge owners spend large revenues protecting bridge users by visual inspection of bridge elements such as bolt joints and tensile steel ropes.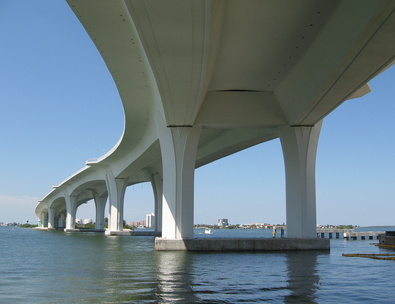 The Problem:
Obtaining multiple readings to monitoring the entire structure can be costly and labour intensive.
The Solution:
A single bridge can be fitted with low power telemetry acquisition devices at every joint to monitor the strain in bolts and fixings, thus indicating where the bridges' weak points are and when they need servicing. A PC based on the bridge would allow the wireless data to be logged and then remotely accessed over the Internet as well as being able to alert engineers by email to any critical repairs required. Fitting the bridge with, for example, 12 acquisition devices would allow the T24-HA Advanced Wireless Handheld to be used on-site to view the values of the 12 devices and their instantaneous values. Owing to the low power requirements of the T24-SA strain gauge acquisition modules, a simple solar panel power supply can be used to trickle-charge the batteries via the T24-BC1 battery charger contained within each unit.
Products used in this application: