Construction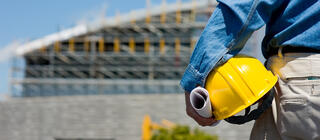 All construction projects require a team effort to plan, design, construct and maintain a building.
Mantracourts bespoke OEM services provide unique access solutions for manufacturers of wireless telemetry for construction load links, lifting and access equipment, wireless telemetry for construction crane scales, scissor lifts and aerial platforms.
Similarly, Mantracourts wireless strain gauge signal conditioners for construction measurement, have abilities to provide wireless load monitoring in excavation shoring, formwork and false work applications as the construction of a building is underway.
The examples below show how Mantracourts instruments are being utilised within the Construction industry:
If you have an application for wireless telemetry for construction crane scales, or any construction application where Mantracourt can help you please contact us

Remote Load Monitoring of Construction Shoring Struts
Remote Monitoring Aids Safety Critical Construction Projects Mantracourt's innovative radio telemetry system is breaking new ground in many industry sectors. T...

Wireless Monitoring of Building Foundations
All buildings, modern and old, are susceptible to movement due to the ground beneath them. Once a new building is erected, it takes time to settle on the new ground. Simi...