Remote Display and Logging in Zone 0
The Problem: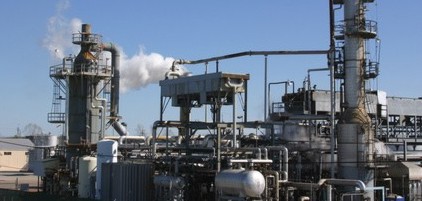 A producer of Bio-Diesel was required to weigh their reactor vessel with a remote display which was positioned outside of the hazardous zone. The company also wished to log the weight of the vessel as ingredients were added; one ingredient to the transesterification process is Ethanol, a highly volatile, flammable liquid.
The Solution:
ATEX approved strain gauges were already fitted to the reactor vessel support structure which were connected in-line to an ATEX 4-20mA load cell amplifier (ALA5). The 4 to 20mA current loop output then passed through a barrier to the safe area. One of Mantracourt's panel instruments fitted with a current input module and RS232 serial communications module allowed connection to a PC where reactor weight values were logged in engineering units.

Products used in this application:

ATEX Certified 4-20 mA Load Cell Amplifier
ALA5

Miniature Strain Gauge Amplifier, Converts Load Cell to 4-20mA & 0-10V
ICA H & S

ATEX Certificated Miniature Load Cell Amplifier
ICA5ATEX