Testing Critical Offshore Systems
The Problem: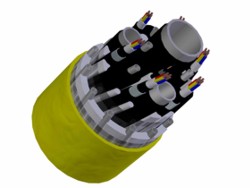 Technip Umbilical Systems (DUCO Ltd), a company that manufactures a range of bespoke 'umbilical systems' for offshore applications, needed to perform steel tube fatigue tests and remotely monitor strain throughout.

DUCO needed accurate fatigue data for the umbilical structures to monitor the dynamic stresses throughout service life, which can impact on lifespan and performance. As the tubes rotate during component testing DUCO could not use a wired system and needed a robust, wireless telemetry system to enable them to reliably collect the data.

The Solution:
The DUCO system is set up with a Mantracourt T24-ACMm, a mini IP54 enclosure which houses the strain gauge acquisition device, converting the analogue signal (mV) to a digital format which is then transmitted via 2.4Ghz frequency to a PC.

The sleep and wake feature reduces the need for personal intervention and increases battery life while the internal antenna provides range of up to 100m. The T24-ACMm also has options for a voltage or current input. A small battery pack with 2 x AAA cells is used to provide 3V DC power and has been fixed to the rotating tubes. DUCO also used the T24 toolkit software to receive and log data to a CSV file.

Products used in this application:

Wireless Sensor Transmitter IP50 Enclosure
T24-ACMm