Team Inferno F1 on the Road to the National Finals
25 Feb 2019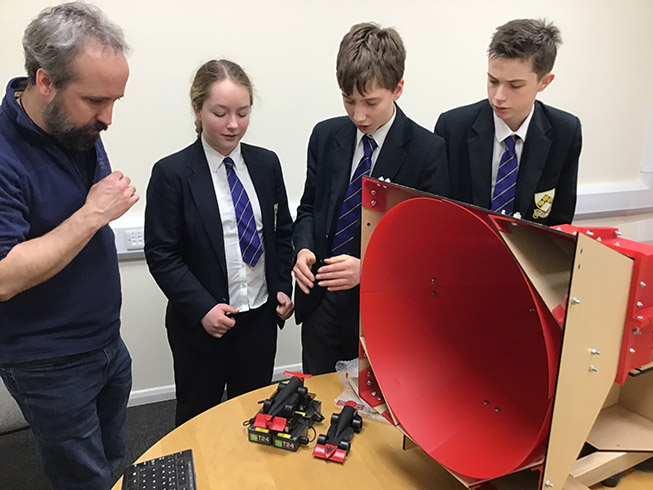 It was great to welcome Team Inferno back to Mantracourt last week to perform tests on their F1 car.

The team from Colyton Grammar School who we are proud to sponsor are looking forward to the F1 in Schools Nationals in Broughton on 11th and 12th March 2019.
Samuel - Design Engineer, Ethan - Marketing and Sponsorship Manager and Amy - Manufacturing Engineer from Team Inferno visited us at our offices to help determine the centre of gravity and to measure the aerodynamic drag on their race car.
The team calculated the maximum speed of the car, and from this found the expected drag force experienced by the car during racing. Tom Lilly and David Taylor from our engineering team assisted the students using load cells, our T24 wireless telemetry system and COG capabilities within our visualisation software (T24LOG100).
We also measured the aerodynamic drag in their impressive, self-constructed wind tunnel! Measurement of aerodynamic drag was achieved by tethering the car to a 100 gram load cell mounted outside the wind tunnel whilst the car was positioned in the wind tunnel. This tether also served to hold the car in position over the four load cells in the wind tunnel floor used to measure wheel weight for the T24LOG100 centre of gravity display.
It is a real honour for us to be working with such aspirational engineers. Good luck with the National finals Team Inferno!