Enhancement of Wireless Instrumentation Range with Pulse Acquisition Module
25 Jan 2012
Announcing the release of our new wireless telemetry pulse acquisition module.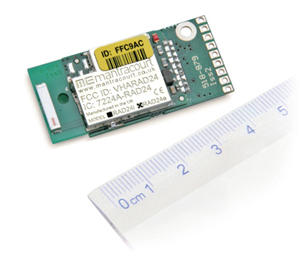 The T24-PA wireless pulse acquisition module is designed for the collection and processing of pulse related measurements. This includes the measurement between pulses to provide outputs in Hz, RPM and Period as well as actual pulse counting. Miniature in size, the device transmits on license-free 2.4Ghz, avoiding local radio interference to ensure data integrity and security. The T24-PA wireless pulse measuring device is also available in IP rated enclosures.

"The pulse acquisition module is an important addition to the T24 wireless range of instrumentation products," said Kelly Voysey, Sales and Marketing Manager at Mantracourt. "It will enable the remote monitoring of processes that have a periodic nature, such as motor, shaft or flow meter rotation. Along with our other wireless sensor modules, the pulse acquisition module will help us provide a complete solution to engineers seeking to remotely monitor and control a given process."

The T24 wireless telemetry range is a flexible low power radio system designed to enable the transmission of high accuracy measurement data from load cells, inclinometers, accelerometers, temperature, displacement and pressure sensors. With a combination of transmitter and receiver technologies, engineers are able to remotely monitor instrumentation readings.
"Wireless instrumentation is enabling engineers to undertake measurement and control in ways that were not possible before," said Kelly Voysey. "Whether it is rotating machinery, or equipment located in a hazardous area such as a construction site, or maybe difficult to access locations, our T24 range is enabling engineers around the world to take a new approach to how they can use instrumentation in the field."
The pulse wireless acquisition module data is provided in real time at variable speeds, with a direct line of sight range of 100 or 200 meters. The range can be extended with the use of high gain antenna's and repeaters. The module can transmit to a range of receivers including handheld indicators, digital displays, analogue and serial outputs, PC display and wireless printer and it has various powering options.