Festival of Imagination 2018 - Colour
1 May 2018
Mantracourt were delighted to sponsor the 4th Honiton Festival of Imagination, a Science-Arts fair, in conjunction with British Science week, which was held in a local town in Devon, England. The focus of this years event was the wonders of colour, including a range of hand-on activities, workshops and lectures to entertain and educate at the same time.
The free event was deemed a huge success, with over 500 people of all ages coming to the event, curious to see all of the stands, listen to lectures and take part in activities related to this year's theme of Colour.
The highlight of the event was a lecture called 'Light Fantastic: The Science of Colour' by Professor Peter Vukusic, who specialises in Photonics research.
Professor Vukusic leads a research group at the University of Exeter that investigates the ways in which animals and plants have evolved strategies for generating and manipulating light and colour, and how bio-inspired technology makes use of these strategies.
With hands-on demonstrations and slides, this lecture showed how colour and light are produced in the natural world and offered a glimpse of how the use of light and colour engineering might shape the future.
Visitors learnt about colours, diffraction, light and pigments as well as having fun getting messy making slime, blowing bubbles and laughing their heads off at The Fizz Pop family science show!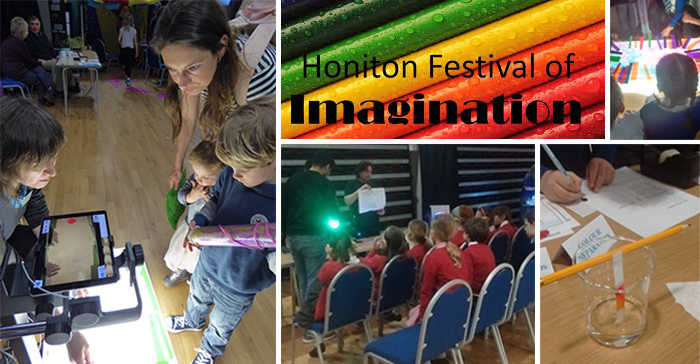 The comments book was brimming with compliments about how much everyone enjoyed this special community event:
"Had an absolutely lovely time at the festival of imagination yesterday! What great community spirit! Everyone was extremely welcoming and helpful and my son, mother and I had a wonderful time. The science show at the end was brilliant. We will definitely be returning and bringing others along!"
"I loved it! Could have listened to Professor Peter for hours!"