Mantracourt Exhibiting at Automotive Testing Expo 2018
15 Aug 2018
Automotive Testing Expo 2018
23-25 October 2018
The Surburban Collection Showplace, Novi, MI, USA
We are excited to be back for a second year at the Automotive Testing Expo 2018 in Novi, MI, USA and are looking forward to welcoming you at Booth 6022N.
We have an un-paralleled expertise in the field of strain bridge measurement - we design and manufacture high performance electronics & software used with load cells, strain gauges, pressure sensors, torque transducers flow sensors and temperature sensors.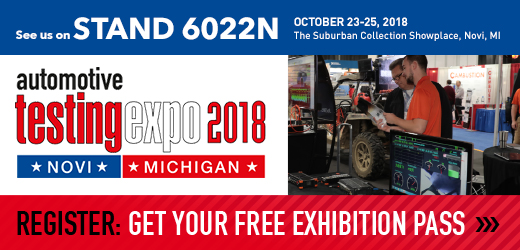 Visitors to our booth will see our very latest product releases including our fast USB strain converter which delivers high speed, high resolution data via USB into our powerful software which is being used in the field of materials and destructive testing.
We will share how our world class leading T24 wireless telemetry system is enabling OEM automotive manufacturers to dramatically increase the speed and accuracy in their production testing.
We will also be demonstrating our upcoming Cloud Platform which can collect data from our instruments anywhere, at any time, as well as a sneak preview of our latest developments in Bluetooth LE telemetry for close range sensor display and configuration on mobile devices.
We look forward to seeing you!
CLICK HERE TO REGISTER FOR YOUR FREE ENTRY BADGE