Mantracourt Takes Pole Position in Race Car Weighing
1 Jun 2016
The world of motor racing is highly competitive and one of the keys to success is to manage and optimise the balance of the race car. Mantracourt, a leader in high precision measurement electronics, through its French distributor Mantra France, has been working with the Sébastien Loeb Racing (SLR) team to supply a weighing system that would give their cars a competitive advantage.
SLR has three Citroen Elysee vehicles entered in the WTCC (World Touring Car Championship) and for several years has been using a weighing system that attaches directly to the vehicle in place of the wheels. This concept should allow an exact and repeatable adjustment of the relationship between the suspension arms and the wheel rims and tyres. However, despite having appropriate mechanical components, users found this system to be unsatisfactory, particularly due to its lack of repeatability. The team started to look round for an alternative that would be easy to use whilst giving them accurate and repeatable data.
Didier Santo of Mantra France proposed a weighing solution using industrial sensors and Mantracourt's T24-ACMi-SA wireless telemetry acquisition modules and the T24LOG100 logging and visualisation software application. Following extensive testing by Jean Philippe Nicolao and his team at SLR, the system was accepted as it satisfied all requirements.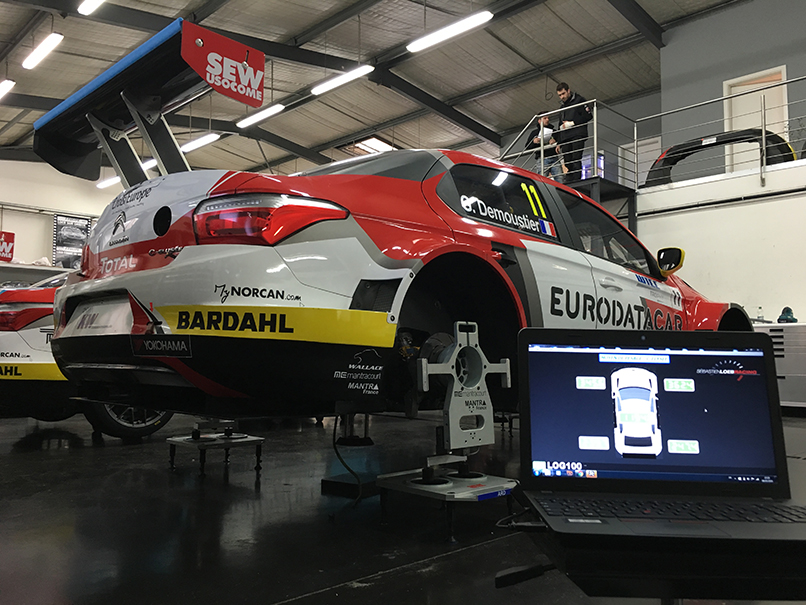 Speaking from their headquarters in Soultz-Sous-Forets in eastern France, Jean Philippe commented: "We have been delighted with the solution implemented by Mantra France. The Mantracourt system was just what was required in terms of accuracy, reliability and repeatability. The service we received was excellent, with all engineers knowledgeable and helpful. We are delighted and the system has become a vital part of our race to success."
Mantra France then entered into a partnership with SLR and now, thanks to the support of Mantracourt, supplies the race team with their weighing requirements. Currently, Mantra France is working to add an inclinometer, which requires a 5V DC supply and has an analogue output, inside each wheel position support point. The T24-ACMi-VA acquisition module will be perfect for this new application.