New Compact Amplifier from Mantracourt is both Intelligent and Easy to Use
16 Jun 2016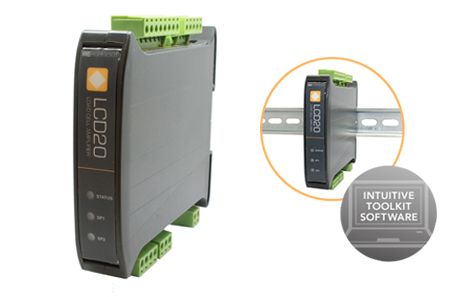 We are excited to announce the launch of the LCD20 load cell, DIN rail signal amplifier specifically designed for automation and industrial process control. This new intelligent strain gauge bridge amplifier is a compact, stackable microprocessor based unit and is complemented by Mantracourt's LC Toolkit software that provides intuitive set-up and logical calibration and control.
This new amplifier has been designed with a host of features and benefits that offer increased reliability and accuracy, greater flexibility, while saving on costs. The LCD20 has standard analogue outputs of 4-20mA and 0-10V, with two digital inputs and has a specification to match most load cells, pressure or strain gauges over a wide range of sensitivities. Two set point relays allow users to set individual thresholds, so providing controls and alarms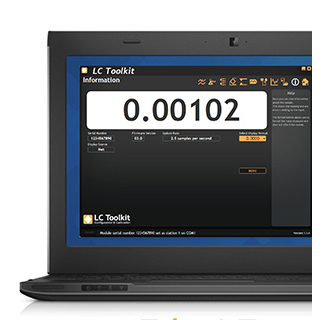 without the cost of additional instrumentation. Superior accuracy is assured through 10 point linearization to desired engineering units. For greater accuracy, design engineers at Mantracourt have developed the LCD20 to support 6 wire input to compensate for any barrier or cable losses.
The LCD20 is easy to set up through either a PC or digital, handheld programmer. Configurations can then be saved to a file that can be sent to end users via email in the event of loss or outage. For added security, lockable features can prevent accidental or malicious end-user changes to the configuration.
To complement the LCD20, Mantracourt offers its free LC Toolkit software. This software for Windows enables users to configure the LCD20 via an intuitive and icon-based navigation system. With simple to follow instructions and highlighted interactive elements, users can configure, save and restore settings, calibrate input and output and log data to a CSV file. There is also real time graphical representation of sensor output.
Speaking about the new amplifier, Jonathan Purdue, Sales Manager at Mantracourt says: "This is a valuable, new addition to our amplifier range. As well as being easy to configure and use, its compact and stackable design means it is extremely flexible and can be easily installed in small environmentally protected enclosures."