Pushing the Boundaries for Instrumentation Monitoring
24 Sep 2013
Announcing the latest version of the acclaimed T24LOG100 instrumentation monitoring software. This new version of the T24LOG100 includes advanced features such as a graphical / mapping capability and a facility for remote viewing via a
web server.
The T24LOG100 software is a data logging package that can handle up to 100 channels of wireless instrumentation data simultaneously whilst also offering a range of sophisticated features that will enable users to optimise system monitoring and control. The T24LOG100 display is highly customisable, so that it can be easily branded with corporate colours and a logo and licenced for distribution.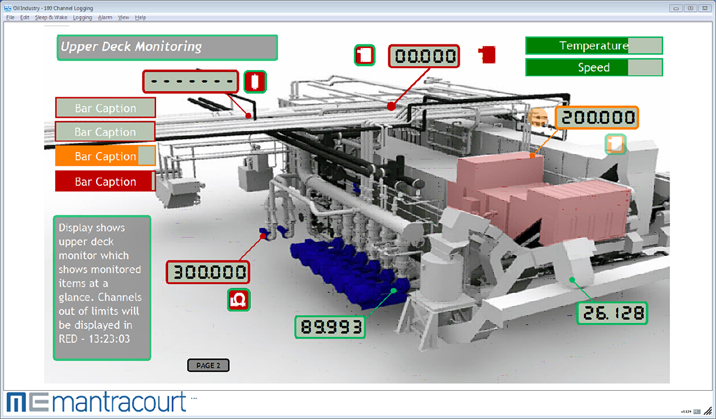 "The new mapping facility will enable engineers to create a visual representation of their channels" said Jonathan Purdue, Business Development Manager at Mantracourt.
"With the new mapping facility, once the display channels are defined, the user can quickly build graphical pages showing the data in a variety of formats including digital display or bars," said Jonathan Purdue.
"Up to eight pages can be defined, and the pages can be easily navigated between. The software enables a variety of image formats to be imported, including JPG, GIF, PDF and DXF."
The Mantracourt T24 wireless telemetry range is a flexible low power radio system designed to enable the transmission of high accuracy measurement data from load cells, inclinometers, accelerometers, temperature, displacement and pressure sensors. With a combination of transmitter and receiver technologies, engineers are able to remotely monitor instrumentation readings.