Sponsorship of Up and Coming Racing Driver
20 Apr 2015
This season, we are proud to co-sponsor one of today's most promising young talents in British Motor Sport. Jack Goff Racing is competing in the 2015 British Touring Car Championship (BTCC) and is off to a flying start.
Jack started in Go-Carts at the age of 6. In 2009, at the age of 18, Jack began his first year as a professional racing driver by competing in the MG Trophy Championship, where he demonstrated his ability to win and earned his place within the world of motor racing by finishing first in his class.
This season Jack is part of the MG Triple Eight Racing team and as such has adopted the team's blue base-coat on his MG6 GT race car for the British Touring Car Championship (BTCC) programme.
Jack Goff helped MG Triple Eight Racing celebrate its first podium of the season at the opening weekend of the 2015 Dunlop MSA British Touring Car Championship at Brands Hatch. Jack's MG factory team showed flashes of brilliance during Sunday's three Easter races, with Jack taking a second-place finish in the final race of the weekend. 24-year-old Jack is now tied at the top of the standings with Honda¹s Matt Neal.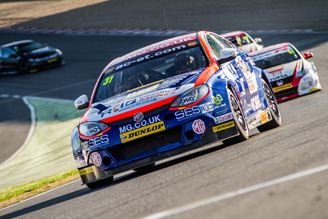 The racing meeting was attended by Kelly Voysey, Marketing Manager.
"It was a really exciting weekend for the team," said Kelly. "Jack drove brilliantly, the car performed well and there was plenty of overtaking action and daring manoeuvres. It was a thrilling occasion; we feel proud to be a sponsor of such a professional and passionate team."
Expectations were high going into the weekend, but both Jack and his team-mate Andrew Jordan struggled to unlock the pace of the MG in qualifying, with Jack sixth, just 0.057s ahead of his team-mate in tenth.
It was a hotly contested affair on the Indy circuit, where the top 18 drivers were covered by less than a second. Initially Jack's lap of 56.016 set the benchmark, before the 24-year-old had a spin at McLaren in his opening laps, which put paid to another early assault on the top of the time-sheets.
A lengthy delay in the middle of qualifying, due to a mistake by Martin Depper, set up an exciting 10-minute shoot out for the 26-car field to conclude the session. It was on the sixth of seven laps after the restart that Jack engineered a gap in the traffic and delivered his 48.599s lap to snatch sixth.
We wish the team the best of luck for the racing season.