Coronavirus Statement - April Update
2 Apr 2020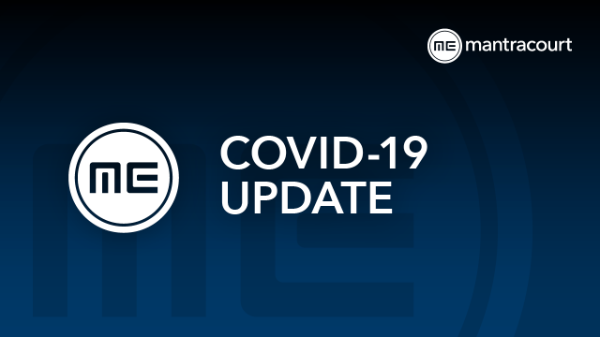 As we begin a new month, Mantracourt Ltd remains open and our operations are running. We know every business has had to make challenging decisions in the face of COVID-19 - here is an update of our position.

Transfer to Homeworking
We have mobilised 20 members of our team to homeworking. Over the last few years we have invested in our IT infrastructure which meant all office workers were able to set-up from home within 24 hours. Our telephone lines and emails are open, we are using MS Teams to maintain contact with customers and suppliers and we are contactable by all of our social media platforms.

We thank all of our customers, colleagues and friends who have kept us informed of their operations. Your positivity has lifted our spirits.

Measures Taken in our Factory
Our top priority has been the health and well-being of our staff. We have been doing everything in our power to minimise the risk of COVID-19 in the factory environment. Following the UK Government guidance, we have stringent measures in place including quarantining inbound deliveries, ensuring workstations are more than 2 m apart and closing the building to non-essential personnel and visitors.

Security of Supply
As soon as we were aware of the COVID-19 virus, we sought to understand, analyse and mitigate the risk of interrupted product supply. We hold six months supply of most critical parts and have increased our orders of less common parts. We also increased sizes of manufacturing batches. We are confident that we can cushion any shortage of parts.

Currently, we do not foresee any of our standard products being under high risk of un-availability. However, the situation is changing and we are working closely with our suppliers and partners to regularly reassess this. Many of our products are in-stock for dispatch from both our UK and US sites however some of our lead-times may be affected by control measures put in place, but please speak with our sales team who will advise.

Company Position
As a company, we are in a strong position and will ensure we are doing everything we can to continue to supply the scores of customers in the UK and overseas who work within essential services.

Stronger for the Future
We are committed to product development with all research and development continuing un-effected. We are continuing to progress several new products which will come to market soon. We want to ensure your business is ready to offer your customers valuable new features when the pandemic subsides. Please ensure you are registered on our mailing list so you can be amongst the first to hear.

Thank you for taking the time to read our statement. Please stay safe.

The Mantracourt Team