Hoskin Scientific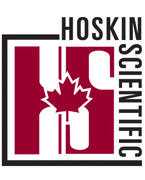 Quote / Price Request
Contact Details
Hoskin Scientific
(Burlington, Montreal & Vancouver)
Unit 5 3280 South Service Road W
Oakville
Ontario
L6L 0B1
Canada

Tel: 905 333 5510
Company Profile
For over fifty years, Hoskin Scientific has been a supplier of testing and monitoring instrumentation to the Canadian market. With offices in Vancouver, Burlington, and Montreal their customers are able to receive local sales and technical support from their three major departments.
The Instrumentation Department focuses on a wide range of products including optical camera systems, transducers and transmitters, data acquisitions and loggers, signal conditioners and indicators, automation sensors and measurement systems. We have technical sales associates that are trained in various areas and willing to help you with your instrumentation requirements.
Their Environmental Department provides solutions for monitoring and sampling biological and chemical parameters in the environment.
Their Materials Testing Department offers testing equipment for soil, asphalt, petroleum, concrete and cement.
Hoskin Scientific Offices
Montreal
300 Rue Stinson
Montreal QC
H4N 2E7
Tel (514)735-5267
Fax (514)735-3454
Burnaby
3735 Myrtle Street
Burnaby BC
V5C 4E7
Tel (604)872-7894
Fax (604)872-0281