Teknik Destek Grubu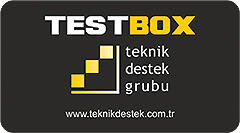 Quote / Price Request
Contact Details
Teknik Destek Grubu
4. Cad. 1328. Sok 5/6 06460
Ovecler Cankaya
Ankara
Turkey
Tel: +90 312 473 97 91
Company Profile
TDG is the Data Acquisition Systems Manufacturer of TURKEY.

TDG has a multi-discipliner R&D team composed of Electronics, Mechanical, Geological and Civil Engineers, Mathematicians and Statisticians, developing data acquisition hardware, software and complete test system projects since 2000.

More than a thousand channels of TESTBOX Series Data Acquisition System are actively used in laboratories of more than 60 universities in Turkey,

A number of Public Institutes including Public Waterworks Administration, General Directorate of Highways, Turkish Ballistic Industry Corporation, Coal Mining Administration, Ministry of Transportation.

Hundreds of academic research papers have been published based on the tests completed by TDG – TESTBOX DAQ.

With industrial test systems to leading industrial facilities in Turkey such as Arcelik Dishwasher Factory, automotive factories, construction companies and other industrial plants and worldwide.