Load Cell Amplifier with Relays Data Port & Display for Weighing (LCA20)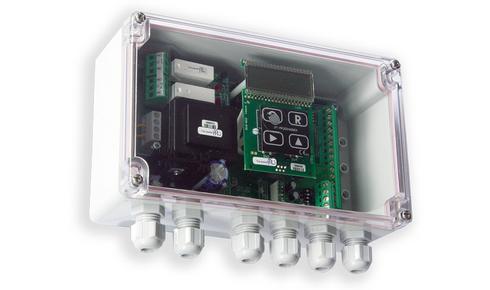 Full digital set–up using PC or keypad
3 x configurable digital inputs e.g. for autotare, peak hold and reset
RS485 and RS232 digital data output for communications and printing
Measurement speeds of 10 / 80 samples per sec
Factory calibration in mV/V
5 V excitation supports up to 10 x 350 R load cells
Fully isolated 4-20 mA and 0-10 V analogue outputs
6 wire input to compensate for barrier and cable losses
2 set points SPCO relay outputs
Sensitivity from 0.5 to 7.8 mV/V
10 pt linearization
Firmware now supports Mantrabus 1 & 2, MANTRA ASCII 2 & MODBUS RTU
ROHS Compliant & Environmentally sealed to IP65 / NEMA 4 enclosure dimensions 200 x 120 x 75 mm
Supplied in IP65 NEMA4 ABS protected case, stainless steel version or DIN Rail option. See also LCB option
The LCA20 shown in main photo has the transparent lid option (LTL)
This very flexible digital load cell amplifier for weighing single or multiple load cell applications, offers an easy one-pass calibration and fast setup. It is also equipped with relays, data port and display.
The LCA20 load cell weight indicator offers options of local or remote LCD displays, isolated 4-20 mA 0-10 V analogue outputs, relay outputs for control or alarm functions, for example, in crane overhead alarms, and also for, in-flight compensation commonly used in silo bag filling applications. The RS232 or RS485 options provide for digital communications (including setup) and can support label or ticket printers.
Analogue and digital output, set point and display capabilities AC or DC powered, IP65 NEMA 4 protected.
The LCA20 (load cell amplifier) replaces the LCA15 and provides increased functionality, improved performance and takes advantage of new technology. See the migration sheet for further details.
IP65 bulkhead mounting ABS case - also available as a DIN rail or PCB module - model LCB-20
For a PCB module version, see model LCB20 load cell amplifier and digitiser.
Need to know more about our load cell amplifiers? See our comprehensive information and application suggestions Load Cell Amplifier
View LCA20 Video on YouTube to learn more.
Can be used in conjunction with our LCI load cell failure alarm, which is designed to continuously monitor the condition of individual load cells and activate an alarm when faults in the system are detected, therefore providing increased safety and cost savings onsite for all weighing systems.
Inputs
The input is of the Load Cell/Strain Gauge type. With transducer excitation voltage of 5 volts @ 160mA to drive 10 x 350R bridges
Compensation by ± sense wires for cable and safety barrier losses down to 3V excitation
Load cell sensitivity range 0.5 to 7.8mV/V (2 ranges configured from keypad or communications port)
Initial offset is no greater than ± 0.15mV (15uV/V) which is cancelled during auto calibration
Speed
10 and 80 Samples Per Second (configured from keypad or communications port)
Factory mV/V calibration accuracy
± 0.05% FSD being typical
Drift
± 2 ppm per degree C @ 2.5 mV/V typical
Non Linearity before linearization
10 pt typical
Internal Resolution
20 bit or 1 part in 1,000,000
Noise Free Resolution @ 10 Hz
17.5 bit or 1 part in 180,000
Contact inputs
are available for auto tare, print and peak hold reset and are volt free
Analogue Outputs
Drive
4-20 mA up to 1 Kohm and 0-10 volts up to 2 mA
Accuracy
± 0.15% of range, typical
Resolution
as for display up to 13 bits / 4.5 digits. Settling time 350 mS to within 1% of step change
Isolation
±130 V RMS or DC max to analogue input or any other port
Power Supplies
LS1
110 V-120 V AC or 220 / 230 V AC 50-60 Hz 10 W
LS3
9-32 V DC 10 W isolated
Data Retention/Protection
Retention
20 years for set up values, minimum of 100,000 write cycles
Protection of data and function(s)
Watchdog timer giving repeat auto resets. Impending power detection and hold off. Calibration and Toolkit lock feature
Other Options & Accessories
2 Set Points
Output through 5 A 240 V AC SPCO Relays, with a latching option
Communications Port
For data transfer or print via :-
RS485
Enabling up to 253 units to be multi dropped
RS232
For 1 to 1 connection and standard printer drive and large displays
Printer Operation
By closure of volt free contact or continuous ASCII stream
Baud Rates
2400, 4800, 9600, 19200, 38400, 57600, 76800, 115200
Die Cast Case
Sealed to IP65 / NEMA 4 with external dimensions of 220 x 120 x 80mm max
Stainless Steel Case
Sealed to IP65 / NEMA 4 with external dimensions of 224 x 160 x 90mm
PCB Only (Eurocard) (LCB20)
100 x 160 X 57mm for rack or customers enclosure
Environmental
Storage Temperature
-20 to +70ºC
Operating Temperature
-10 to 50ºC
Relative Humidity
95% maximum non condensing
CE Environmental Approvals
European EMC Directive 2004/108/EC, Low Voltage Directive 2006/95/EC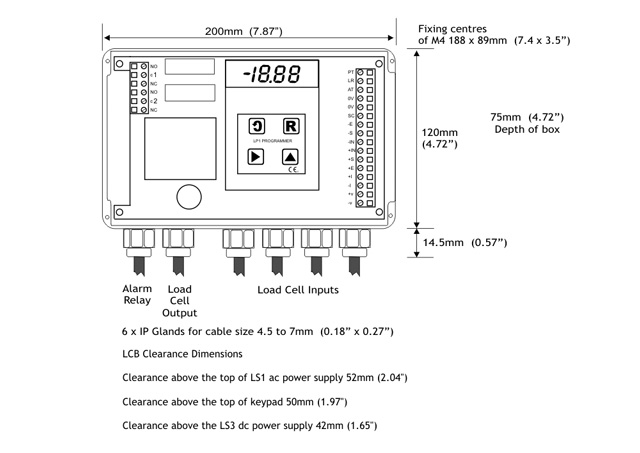 Software
LC Toolkit : The LC Toolkit software for Windows will allow a connection with the LCA20 via an optional on-board communications module LC4 or via an optional programming cable PGM1.
Product order options
Please read the following before selecting the options for this product:
LCA20 Base Unit – Standard Instrument with 4-20mA/0-10 Analogue Outputs for ABS Case.
Ordering Information- Starting with the base model LCA20 select the options that you need to configure the device to meet your needs. i.e. LCA20-LC4-LR1-LS3-LP1-LTL
| Options | Code |
| --- | --- |
| Junction Box Active | JBA |
| Junction Box PCB (only) Active | JPA |
| Base Unit | Code |
| LCA20 | LCA20 |
| Comms | Code |
| RS485/232 Communications (supports MODBUS RTU, ASCII, MANTRABUS 1 & MANTRABUS 2) | LC4 |
| Relay | Code |
| Relay Output Module 2 Set Points (2 x SPCO 5A 240V AC ) | LR1 |
| Power Supplies | Code |
| AC Power Supply 110/120V, or 220/230V AC | LS1 |
| DC Power Supply 9-32V DC | LS3 |
| Display | Code |
| On Board Programmer | LP1 |
| Remote Hand Held Programmer | LP2 |
| Extended Mounting | Code |
| Transparent Plastic Case Lid | LTL |
| Accessories | Code |
| PGM1 Programming Lead (no discount available) | PGM1 |
| Junction Box PCB (only) Passive | JPP |
These are the following industries and applications in which this product has been used:

OEM Load Cell Amplifier and Digitiser PCB
LCB20
Q: What Protocols are available with the LCA20?

A: There are 4 Protocols
CP=128 = Mantrabus 1 a hex based protocol. Most popular, easiest to deal with from programming point of view.
CP=131 = Mantrabus 2 updated version of Mantrabus1
CP=133 = Mantra ASCII 2 based protocol designed for old teletype machines, looks easier but actually more complicated to programme.
CP = 132 Modbus RTU used a lot in PLCs. 3rd Party S/W available. Hex based.
Or alternatively set CP=127 and the device will transmit an ASCII string every display update (used for continuous printout to either printer or display.

Q: Does stainless steel case for LCA20 have stainless steel glands?

A: No plastic PG9 glands.

Q: Does the 4-20 mA output on an LCA20 have galvanic separation?

A: No but it does have electrical isolation up to ±130V RMS

Q: How do you view the live reading on the LCA20 without Auto Tare and having to calibrate again?

Go to the 'measurement' section in the LCA Toolkit.
Note the reading in the 'Tare' value box and then change the value to zero. Click on the 'Tare' button and the unit will display live reading.

Alternatively, using the keypad:
Go into the menu and pick AT Mnemonic.
Note the reading down and then set to zero.
Press return and then the unit will display live reading.
To reset Auto Tare re enter value in AT Mnemonic screen which you noted down.

Q: What is the maximum length of cable we could connect between a LCA20 unit and a load cell unit?

A: It would depend on many different factors:
The quality of the cable
The type of cable
Whether it was 4 or 6 core
The number of load cells
Environment
Interference
With the best quality of cable in an ideal environment and with little or no interference we have had operating at 200 metres.

Q: LCA20 / SMW can they handle tension and compression?

A: Yes

Q: Is it possible to connect two LCA20s to one load cell?

How would the scaling of each remain stable in the event of a failure of one or the other ?
Can the output of the load cell be connected to both LCAs? With perhaps a resistor network holding the input of the second to a reference ?

A: This is done using 6 wire, with the second LCA20 as 5 wire (no "+" excitation).
You could have two 6 wire with two blocking diodes (for redundancy).
Or a separate power supply and two 5 wires.

Q: How do I factory reset a ADP / ADW / LCA20 / SMW?

A: Hold down the Scroll and reset key and then power cycle the unit.
* All settings will be reset, including calibration.

Q: Can I use a laptop to set up the LCA20?

A: Yes, by means of the optional PGM1 Programming Cable and the LCA Toolkit. The option to use the LCA20 keypad is also available.

For more 'Frequently Asked Questions' please see our Knowledge Centre