Strain Gauge or Load Cell Handheld Display with RS232 Data Port (PSD232)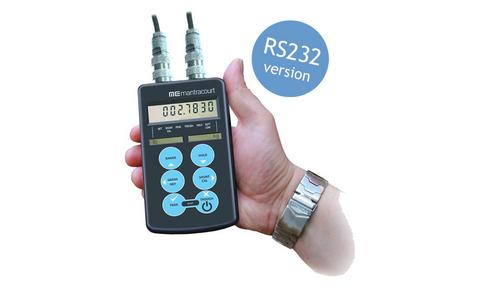 The RS232 version of the PSD the load cell or strain gauge handheld display with RS232 interface. This allows for connections to many interfaces including PCs and data loggers.
Portable digital display for use as a strain gauge handheld. Easy to carry weighing only 250grams
Waterproof IP65 NEMA4 battery powered
7 digit LCD display, with battery, peak, trough, net, overload and shunt cal indication
Battery powered with life of 450 hrs in power save mode
Tactile keyboard, with on/off, range select, peak/valley hold, and gross/net controls
Microprocessor based, allowing single pass calibration facility (direct mV/V)
Dual range for values such as Kg and lb
TEDS enabled for automatic sensor calibration (IEEE1451 - template 33)
Photo on left showing the available accessory black leather carry case with clear viewing window shoulder strap for both versions of PSD
The strain gauge or load cell handheld display with RS232 interface enables the connection to many devices whether a PC or simple data logger. The PSD232 is fitted with a 8 pin connector which allows users to connect the appropriate cabling for their application.

As with the standard PSD handheld, the PSD232 weighs only 250 grams and has a 7 digit LCD display with 6 tactile push buttons for access to on/off, gross/net, peak, trough, display hold and shunt cal functions. The indicator is designed to interface with any full bridge sensor with an output sensitivity of up to 50 mV/V. Bridge resistances from 85 ohms upwards can be used.
Two units of measure are able to be read and displayed such as kg & lbs. An annunciator indicates which range has been selected and there is a window, to insert a legend, describing each unit of measure.
The menu options on the strain gauge or load cell handheld display is accessed via the tactile keypad and offers the ability to tailor the instruments response to the application, including configuring the display update rate to either 0.5 Hz, 1 Hz, 3 Hz or 10 Hz setting, auto power down and overload. Calibration is also performed from the menu. Up to 450 hours battery life can be achieved whilst in power save mode with powering via 2 x AA Alkaline batteries (not included). An auto sleep/off function can be set ranging from 1 minute up to 99 minutes.
Both PSD's are TEDS 'Plug and Play' (Transducer Electronic Data Sheets) enabled.
1 year warranty with accessory options of a black leather carry case with shoulder strap which allows full operation of the PSD232 whilst being carried in the case.
The Case is Registered Design No. 3021311
Description
Min
Typical
Max
Units
Non linearity
0.001
0.005
% FR
Internal resolution
24
Bits
Resolution at 1 Hz sample rate
250,000
Counts /Divisions
Resolution at 10 Hz smaple rate
65,000
Counts /Divisions
Temperature effect on zero
0.0002
0.0007
±%FC/°@2.5mV/V
Temperature effect on span
0.0002
0.0005
±%/°C
Offset stability
0.002
0.008
±%FR*
Gain stability
0.003
0.01
% per annum
Excitation voltage
4.8
5
5.2
Vdc
Strain gauge impedance
85
350
5,000
Ohms
Sensitivity full range, setting 1
-5
+5
mV/V
Sensitivity full range, setting 2
-50
+50
mV/V
* from original offset at any time
Performance
Input Type
Strain Gauge Full Bridge Sensors
Internal Battery
2 x AA Alkaline, access via sealed rear compartment, please note batteries are not included
Battery Life
With 350R sensor continuously on 35 hours or up to 450 hrs in low power mode
Update Rate Strain Gauge Full
10mS to 2s Including Peak/Valley Hold capture rate
Indication
Display Type
7 digit LCD display, 8.8mm high digits
Display Resolution
1 part in 250,000 at 1s update
Annunciators
Low battery warning peak, trough, hold, net, shunt cal, range, by LCD annunicators
Control Variables
Front Panel User Keys
Tactile Keys for:-
ON/OFF/TROUGH Switches PSD power on/off/displays trough reading
RANGE Selects between two ranges,
PEAK displays peak reading
HOLD Switches Hold on/off
GROSS/NET Toggles between gross and net readings
SHUNT CAL Puts PSD units shunt calibration mode (100k resistor)
Settable Parameters
Display Resolution
Rate 0.5, 1, 3, 10, 25Hz
Low power modes
Calibration
By front panel keypad buttons protected by key sequence
Extra connector
RS232 comms port
Options
Serial RS232 Port, Streaming ASCII for print, remote display and logging
Leather carry case
VisualLink, PC SCADA application
Environmental
Storage Temperature
-40 to +65ºC (excluding batteries)
Operating Temperature
-10 to +50ºC (excluding batteries)
CE Environmental Approvals
European EMC Directive 2004/1108/EC, Low Voltage Directive 2006/95/EC

Height of displayed digits: 0.9 mm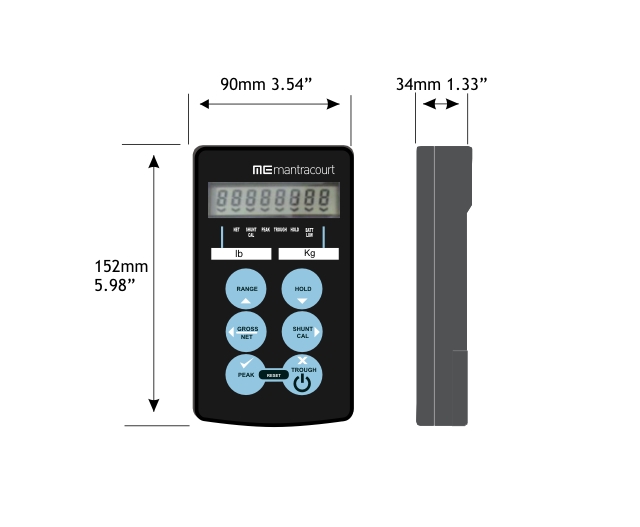 Software
No relevant software available
Product order options
The mating connectors are included with the product.
| PSD | Code |
| --- | --- |
| PSD232 Strain Gauge or Load Cell Hand Held Display, mating connector & serial RS232 port output | PSD232 |
| PSD232 Strain Gauge or Load Cell Hand Held Display, mating connector & serial RS232 port output Non Branded | PSD232-NB |
| Accessories | Code |
| Black leather case with clear viewing window with shoulder strap | TR100-CA |
| Mating Connector | 427-148 |
These are the following industries and applications in which this product has been used:
Q: Can I connect to RS232 using the PSD?

A: Yes, via the PSD232. This handheld can connect to most RS232 interface whether it's a PC or simple data logger.

The PSD232 sends the displayed value to the RS232 port at 9600 baud in an ASCII format, terminated by a carriage return and line-feed making it suitable for stand alone data loggers, larger serial displays as well as interfacing onto a PC for logging which can provide a useful record during a calibration or load cell test.

The RS232 output is provided at the same time that the display is updated The update rate is user configurable with updates rate of up 10Hz.

Q: Can I use the handheld to indicate different engineering units?

A: Yes, 2 separate ranges are available, which enable the instrument to read and display two separate engineering units; i.e. lbs/kg, tonne/kN, etc. The menu options provide the user with the ability to completely tailor the operation of each range such as the display update rate, low power operation and RS232 output along with the resolution and decimal point position. Each range tracks its own peak and trough as well as its Gross/Net state all of which are saved on powering.

Q: How do I calibrate to the PSD?

A: The PSD is factory set to enable calibration with sensors generating an input signal of 5mV/V or less. In the majority of cases it will not be necessary to read higher signal levels.

The best method of calibration, if it is possible to do so, is via the Live calibration (via the PSD's menu programme), as this reads in the sensor signal at two calibration points and scales the PSD automatically. If this is not possible, then the sensitivity figure (in mV/V) from the sensor calibration certificate can be used to scale the PSD, by using the Table (via the PSD's menu programme) calibration. This may be the only option available if you are unable to apply a known stimulus to the sensor, which quite often is the case.

Q: What is TEDS and how does it work in the PSD?

A: TEDS is at the heart of the new universally accepted IEEE 1451.4 standard for delivering Plug and Play capabilities to analogue measurement and test instruments. In essence, information in a Transducer Electronic Data Sheet provides interfacing devices with the critical sensor calibration information in order to perform accurate and precise measurements every time. TEDS works in a similar way in which USB computer peripherals immediately work as they are connected. TEDS enabled equipment maybe swapped and changed without recalibration, saving time and money. TEDS holds information such as a sensor manufacturer, model and serial numbers, and more importantly all the calibration settings determined by the manufacturer.

As implemented according to IEEE P1451.4, data in the form of a Transducer Electronic Data Sheet (TEDS) is burned on an Electrically Erasable Programmable Read-Only Memory (EEPROM) chip located in the sensor or its associated connector. TEDS requires only a single additional connection from the sensor to the Instrument.

The main advantage of the TEDS enabled PSD is that one PSD can read from any number of TEDS enabled strain bridge sensors without the need for the operator to enter calibration data which can be a time consuming and erroneous operation.

Q: Can I connect the handheld to more than one sensor without using TEDS

A: Yes. Although the PSD has only one sensor input it does have two ranges. So the calibration and configuration data for two separate sensors can be held by the PSD. Each range has its own Peak & Trough value as well as tracking if it is in Gross or Net mode.