100 Channel Logging & Visualisation Software (T24LOG100)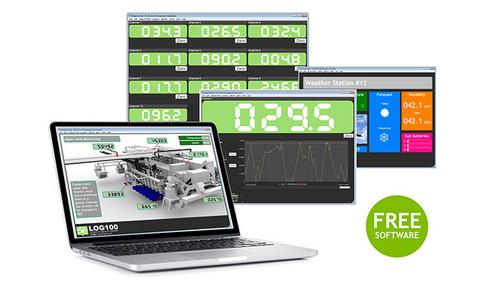 About Freeware
This Software title is licensed as FREEWARE. This means it is completely Free to use and can be copied and distributed freely as long as the following conditions are met:
The source files on the original media cannot be changed in any way and must be distributed in full including any soft documentation.
The software must not be packaged as an end user application. It must only be used as a configuration tool.
There must be no charge for the software itself, although a charge may be made for duplication and/or media.
Component software parts may not be used in third party applications without prior consent from the software author.
V4.10.0
What Does it Do?
T24LOG100 has been designed to allow the viewing and logging of up to 100 channels of data from the T24 Wireless Telemetry range of sensor transmitters.
This software is FREE to download and allows users to build a visual representation of a system and assign live readings. The built in web server provides a summary view page to other computers, tablets, iPads and smart phones etc. using a standard browser.
Watch our 3 minute video which runs through the software's main features.
A resizable window displays a table of up to 100 channels of data. Channels can be setup with user defined algorithms that can be used to calculate a multitude of maths functions. For example, a display can show the value from a single T24 transmitter module or the sum of multiple transmitters. Visual displays and audible alarms can indicate under and over range as well as loss in communications, low battery and error reports.
Once the display channels are defined the user can quickly build graphical pages showing the data in a variety of formats including digital display or bars. Up to eight pages can be defined and the pages easily navigated between. A variety of image formats can be imported, including JPG, GIF, PDF and DXF.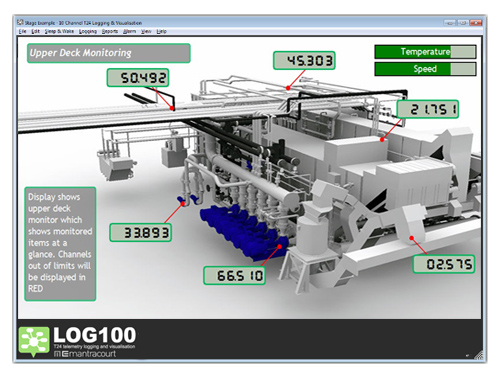 T24LOG100 can log on demand, at pre-set intervals, on entering and leaving a pre-set overload and during an overload. It creates a CSV file which can be loaded for analysis into software programs such as Microsoft Excel. JSON format data is also available on demand via the built in web server.
This software is also available with customised branding. It is provided with your choice of corporate branding, including company logo, colour scheme and contact information. Contact us for further information. Tel: +44 (0)1395 232020
Key Features & Benefits
Free 100 channel software
Displays and logs data from up to 100 wireless sensor transmitters from our T24 wireless range
Mapping / graphical capabilities
Webserver offers remote viewing on iPads/tablets/smart phones and also supplies JSON data on demand
Create reports for your customers and develop custom projects
Compatible with Windows XP, Vista, Windows 7, Windows 8 and Windows 10
Defined algorithms and maths function
Logging at timed intervals, manual or on overload / underload
Visual and audible alarms indicates over and under load
Visual alarm for low batteries and loss in communication
Zoom in to channel to see data trends and history
Quick & easy to install
Export and log data in CSV format
Customisable logo and colour scheme for integrating into your brand is available
Video
Product Sheet
FAQ's
Hardware Requirements and Performance
Hardware
This software copes with a wide range of operating systems and computer speeds as it has configurable update speeds, logging rates and number of channels.
The recommended minimum hardware specification is an Intel i3 processor with 2 gb RAM.
The software will run on Intel Atom netbooks but you will not be able to log as quickly as on faster computers and may only be able to support a limited number of channels.
As a rule of thumb if you want to log at once per second or slower then you can pretty much use any computer. There are some performance settings in the Preference Window that can help the software feel responsive even on slower computers.
Performance
See the 'Preference Window' for the following settings.
The speed of your processor and graphics card can make a big difference to how responsive the computer is as you resize the software main window. On faster computers you can enable 'Show Displays' while resizing.
If the software determines your computer is fast enough, it will enable the option of 'Realtime Chart Update'. On slower computers (or logging at high speeds) you may not want to enable this as it can reduce the logging speeds achievable.
Remember that just because the software allows you to log up to 200 Hz (5 ms interval), depending on the number of display channels, and the complexity of the display channel expressions, you may not be able to achieve the desired rate.
Unfortunately, due to the number of variables in both the computer and the software configuration, it is not possible to accurately predict what is achievable.
For example, the software will not be able to log at 200Hz when 100 channels have been configured.
Windows XP, Vista, Windows 7 or Windows 8
The software does not take advantage of 64 bit operating systems nor direct advantage of multi core processors, but is compatible with both.
Changes
Version
Date
Description of Change
4.10.0
27 Jan 17
Triggering a report would stop any in progress logging without informing operator.
4.6.0
12 Oct 16
Added ROC(expression, SampleTime) function for display expressions.
4.5.1
10 Oct 16
Display formats can now have leading placeholder character # for leading zero suppression.
4.4.8
22 Sep 16
Crashing French OS.
In visualisation menu shortcuts do not work.
4.3.0
01 Sep 16
Visualisation data can be lost during save.
Objects don't always move when clicked and dragged. Attempted to improve
4.2.0
04 Aug 16
Log will auto resume after non user shutdown such as PC power failure. Manual shutdown will give choice of resuming or not on restart.
Elapsed time in manual and overlimit logs are now correct.
4.0.21
03 Nov15
Ability to control visibility of Zero/Reset buttons for each channel added.
4.0.20
27 Oct 15
Chart control button interface improved. Mapping renamed as Visualisation.
4.0.11
13 Oct 15
Fixed issues with regional settings that use comma for decimal separator opening projects with objects having opacity < 100%
4.0.10
01 Oct 15
Now view up to 4 traces on a single chart
4.0.0
10 Feb 15
Free version released
3.0.3
08 Dec 14
Zero/Gross button issues fixed. Incorrect default display format on newly added channels.
3.0.0
25 Nov 14
Some regional settings would result in distorted map objects.
2.0.13
25 Nov 14
Supports all operating system locales.
1.3.19
10 Jun 14
Can now enter report descriptions correctly. Better shutdown robustness.