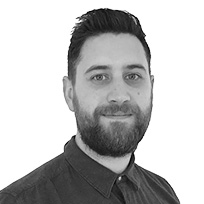 Steve Hosgood, Sales Manager talks about the Mantracourt roadmap for 2021, what has surprised him about the company since joining in 2019 and reveals how he lets off steam when he is away from the office.
As we kick off 2021 what strategies are you concentrating on to build momentum and advance the Mantracourt road map?
Fundamentally our roadmap for 2021 is to build where we left off last year and make sure we are at the forefront of where we need to be. The momentum of a sales team is multifaceted and built through communication and a knowledgeable understanding of what our customers need. Modern communication channels such as Zoom and Teams have allowed us to touch base with customers and improve accessibility; facilitating meetings to be time and environmentally efficient. Of course, we're still available via email and telephone! We have a new direct phone number through to the sales team also. A collaborative focus from the sales team has made us slicker and more knowledgeable, coupled with exciting new products in the pipeline I am ambitious for  2021.
What has surprised you about Mantracourt since you joined the company?
The first thing which struck me when I joined Mantracourt was the amount of retained knowledge. It was obvious the company and the people who work here have a real passion for who we are and what we do. Some employees have worked for the company for over 40 years, providing a unique access to the people who designed or built products. It is a bit of a cliché, but Mantracourt have an eco system of employing slowly, finding the right person a position, and looking after them within the company. In return employees have a buy-in for what we do and become part of the 'Mantra-family'.
What is the biggest thing you are learning now and why is it important?
Change in trading conditions following the UK's departure from the European Union are an ongoing education. I think the ease of trading was something some took for granted as there are now delicacies which have altered billing, shipping, and the effect of tariff codes on VAT. Presently, I am studying for an International Trade Diploma which has primed my understanding of the 'new normal' and the sales team at Mantracourt are on hand with any assistance customers might need.
What are you most likely to be doing at the weekend to let off steam?
Anyone who knows me knows I am a family man through and through and I enjoy spending time with my wife and two young children. Living near the coast we make the most of it and weather permitting, we enjoy walks and picnics on the beach. I am enjoying being able to get some father/son time on our bikes as my son has recently progressed to cycling without stabilizers. On other days I enjoy a different father/son relationship hanging out with my dad. Such is the inspiration my dad has been; he is the person given the opportunity I would swap place with for 24 hours. His attitude to work, life and family have made me the man I am today.
What three words would your friends use to describe you?
Darf – nickname, don't ask!
Loyal
Dependable – when I make a plan, I stick to it.
Connect with Steve