40 Years of Advanced Intelligent Instrumentation
The Load Cell Amplifier Just Got Smarter!
Multi-featured Load Cell Amplifier
Latest Microprocessor Technology
Fully Programmable
Easy Configuration using Software Toolkit
Wireless Telemetry
Measurement System
Complete wireless sensor solution
Exceptional battery life
Monitor a variety
of sensors
Fit and forget
Easy to set up
USB Load Cell
Converter
Plug and play in 2 minutes!
1 - Install software
2 - Plug in USB
3 - Ready to go!
In-line ATEX Load Cell Amplifier
Safety isn't expensive... it's priceless!
Hazardous zones
0, 1 & 2 certified
Temperature range
-40C to +85C
IP67 Stainless-
steel case
Load Cell Amplifiers & Indicators
Mantracourt Electronics design and manufacture an extensive range of specialist measurement products for a wide range of industry segments. The instrumentation is designed for load cells, strain gauges, pressure sensors, torque transducers, flow sensors, temperature sensors, for signal conditioners, display and control using analogue, digital and wireless sensor networks techniques.
As a company, we specialise in miniature high performance electronic products giving high accuracy, performance and speed. Our core product range consists of simple load cell internal amplifiers, analogue signal conditioners, digital indicators, strain gauge digitisers, wireless telemetry systems, load cell weighing indicators and USB data acquisition units.

Mantracourt was founded in 1974 with the clear objective of becoming a world leader in the application of microelectronics to industrial measurement applications. Based in the South West of England, Mantracourt has demonstrated solid growth to become a world leader in wireless sensor networks, load cell amplifiers, weight indicators, and USB load cell converters.
All our products are designed and manufactured by Mantracourt in the UK. Our high quality automated manufacturing plant produces highly reliable rugged long service life products.
Dedicated Design and Manufacturing
Mantracourt is firmly established as a technology provider to many major OEM sensor manufacturers. With a product range of over 1,000 designs and measurement technologies including weight, strain gauge, load cell, force measurement, temperature, pressure, voltage, current, potentiometer, rate, flow, LVDT, displacement, inclination, vibration and torque in either analogue, digital or wireless sensor networks technologies.
Constant Progress
Mantracourt's specialist engineering team is constantly developing products and technologies using the latest components. To keep in touch with new product releases, news and engineering insights, please register to receive the email newsletter using the links on the left panel..
Mantracourt's partners can help with technical support guiding you through to the right product to suit your needs or application. Products are normally in stock with a fast next day despatch service.
Global Suppliers of Wireless Sensor Networks and Strain Gauge Amplifiers
Mantracourt provides its own reliable brand of innovative radio wireless telemetry system enabling wireless telemetry for strain gauge, pressure, force, torque, potentiometer, pulse, temperature, current and voltage load cells with wireless displays and USB PC input. With options for wireless remote data collection providing email and text alerts plus web based server access. These are offered alongside load cell amplifiers, analogue signal conditioners, digital indicators, weight indicators, strain gauge digital converters and USB load cell data acquisition units with output options including USB, RS232, RS485, 0-10 V and 4-20mA.
OEM Suppliers for Weight Indicator Products
Mantracourt's product range performs a variety of precision measurement functions for a wide range of industries. The customer base is founded in the weighing and lifting industries and has expanded into many other industries including automotive, civil engineering, construction, waste management, test and measurement, marine, process engineering, farming, chemical, events and entertainment.
Highly reliable, extremely rugged products
Specialists in strain gauge and load cell signal conditioners
High performance (24-bit, 5kHz) analogue to digital converters
High density SMD capability for miniature products
Hazardous area acquisition (ATEX)
Full technical life time support of products from load cell amplifiers to USB load cells to wireless sensor networks
Stocked standard product range, despatched next day
Certification

Queens Award
In 2009 Mantracourt was proud to receive the Queen's Award for Enterprise in International Trade, the highest business accolade a UK company can win. Company Director David Wilmington accepted the award with the dedicated team at Mantracourt.
One of our core strengths is our load cell indicators and measuring and signal conditioners.
What is a Load Cell Indicator?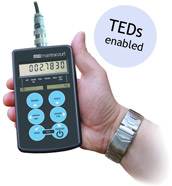 Also known as a strain gauge indicator, a load cell indicator is designed and manufactured to display the real time data from load cells. Mantracourt's model PSD is a load cell display indicator which can also be used with other strain gauge based sensors such as torque transducers, pressure sensors as well as load cells.
The PSD battery powered strain gauge indicator is a microprocessor based portable instrument designed to interface with any full bridge sensor with an output sensitivity of up to 50mV/V. View the PSD Load Cell Indicator in more detail.
Using a Load Cell Indicator in the Field:
As an example of use, a calibration company could use the PSD load cell indicator to interface with TEDS enabled load cells for calibration and verification in the field. Encountering different environments and situations requires such calibration specialists to take readings from many different load cells.
A single load cell display can be used for all ranges of load cells from grams to tonnes. The calibration is held on a small TEDS capable IC buried inside the load cell itself. When connected to the load cell indicator the calibration data is read from the TEDS chip and used by the digital load cell indicator to display the measured signal in the correct calibrated units. Having high resolution and stable measurement as well as the advantage of one instrument connecting to many load cells, makes the handheld load cell indicator from Mantracourt very suitable for this situation.
What Can Be Connected To a Load Cell Indicator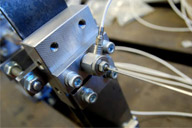 The Mantracourt range of load cell indicators can be connected to a wide range of load cell types including compression, tensile, shear and torque.
There are different load cell types based on their electrical properties such as resistive, piezoelectric and capacitive however, the Mantracourt range load cell indicators can connect (or wirelessly connect) only to resistive bridge strain gauge types.
See Also load cell amplifiers.
Featured Product
Load Cell Amplifier with Relay & Data Output
Find out more