Data Acquisition in Formula SAE Suspension and Steering System Validation Tests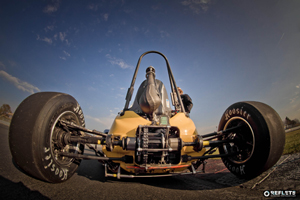 Formula SAE is an international engineering competition where student teams compete with single-seater race cars they have designed and built themselves. Mantracourt have sponsored the 'Ecole de Technologie Superieure' (ETS) engineering team from the University of Quebec since 2009, providing instrumentation for their prototype design and build.
452 teams from 41 different countries spread across 5 continents take part in the competition and there are major Formula SAE events held in the USA, UK and Germany. Events also take place all over the world in countries such as Austria, Hungary, Japan, Thailand, Brazil and Australia.
The ETS Formula SAE Team from the University of Quebec is renowned for its lightweight and ergonomic car design, its excellent suspension design and its scientific approach to vehicle validation and development.
The 2011 car features new suspension and steering packages designed from scratch. The new steering system was designed to reduce driver effort while allowing clear feedback from the tyres back to the driver. In order to validate set up and troubleshoot various systems on the car, loads in all suspension and steering links needed to be quantified. To do so, the team needed strain gauges on all suspension and steering links.
Above image courtesy of Remi Saint-Onge, ReflETS.

The Problem:

A race car generates a lot of electro-magnetic noise from the ignition and telemetry systems. This means that there must be minimal wiring length between the strain gauges and the amplifiers. Secondly, to provide representative data, the weight of the whole system must not alter the dynamics of the car.

The Solution:

The strain gauges and embedded ICA amplifiers were integrated to the data acquisition system already in place. The resulting data was used in several phases of the project. Here are a few examples:

The recorded suspension loads allowed further refinements of the chassis load case which yields a lighter yet rules compliant chassis design.

The recorded steering loads allowed the team to characterise driver effort and also allowed a new target to be set for a steering system design balancing steering response, feedback and effort.

During the validation and development phase, the strain gauges allowed the team to monitor the wheel load fluctuation for better spring-damper selection and adjustment. Also, load transfer characteristics were monitored for validation and diagnosis purposes.
Products used in this application:

Miniature Strain Gauge Amplifier, Converts Load Cell to 4-20mA & 0-10V
ICA H & S