Strain Gauge Measurement
Mantracourt Electronics design and manufacture an extensive range of strain bridge measurement products for a wide range of industry segments. The instrumentation is designed for load cells, strain gauges, pressure sensors, torque transducers, flow sensors, temperature sensors, for signal conditioning, display and control using analogue, digital and wireless techniques.
As a company, we specialise in miniature high performance electronic products giving high accuracy, performance and speed.
Our core product range consists of strain gauge amplifiers, analogue signal conditioners, digital indicators, strain gauge digitisers, wireless telemetry systems, load cell weighing indicators and USB data acquisition units.
Mantracourt was founded in 1974 with the clear objective of becoming a world leader in the application of microelectronics to many sectors of industrial measurement. Based in the South West of England, we have demonstrated solid growth to become a world leader in strain gauge instrumentation. Our reputation as specialists in strain gauge measurement has enabled us to compete on a global basis to supply many major OEM sensor manufacturers with innovative and high performance strain gauge measurement solutions.
All our products are designed and manufactured by us in the UK. Our high quality automated manufacturing plant produces highly reliable products designed for long service in the field.
Strain Gauge Instrumentation | We Make What We Sell
Almost without exception, we are both the designer and manufacturer of the products we sell. So when you talk to us, you are talking to the people who know the products completely. Our knowledge of strain gauge instrumentation design has been built through many years of industry experience. Our teams of design and development engineers and technicians are supported by a fully equipped laboratory including special EMC and RF test equipment that is used in the design and development process. We operate our own line of state-of-the art surface mount technology and pick and place machines. Our talented manufacturing team complete the product, often by hand soldering final components.
With a product range of over 1,000 designs and strain gauge measurement technologies including weight measurement, force measurement, temperature, pressure, voltage, current, potentiometer, rate, flow, LVDT, displacement, inclination, vibration and torque in either analogue, digital or wireless technologies.
Mantracourt provides its own reliable brand of innovative wireless telemetry system enabling wireless telemetry for strain gauge measurement, pressure, force, torque, potentiometer, pulse, temperature, current and voltage load cells with wireless displays and USB PC input. With options for wireless remote data collection providing email and text alerts plus web based server access.
Quality Assured
Our quality management system, in harmony with BS EN ISO9001:2008 certification and the ATEX Directive (94/9/EC), is in place to provide clearly defined policies, processes, procedures and work instructions for the effective planning, operation and control of product design and manufacture. We are committed to a continuous improvement approach to service and product quality assurance.

Our range of strain gauge amplifiers and instrumentation is sold in over 30 countries worldwide by technical partners who can help with both sales and support. These partners can also assist in supplying load cell or sensor requirements. Our technical partners have access to our product range of over 1,000 designs and strain gauge measurement technologies.
OEM Suppliers of Strain Gauge Instrumentation
Mantracourt's product range performs a variety of precision measurement functions for a wide range of industries. Much of our customer base is founded in the weighing and lifting industries and has expanded into many other industries including automotive, civil engineering, construction, waste management, test and measurement, marine, process engineering, farming, chemical, events and entertainment. We have become a key technology provider to many OEM sensor manufacturers in these industries.
Queens Award for International Trade | Strain Gauge Measurement
In 2009 we were awarded a Queen's Award for Enterprise, which recognised our outstanding achievement made in international trade. The award is the highest business accolade a UK company can win and given the economic challenges of recent years, we were extremely proud to receive this.
One of our bestselling instruments is our PSD load cell indicator. Below we take a look at an instrument which is used around the world.
What is a Load Cell Indicator?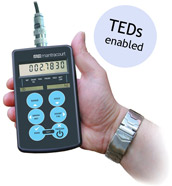 Also known as a strain gauge indicator, this indicator is designed and manufactured to display the real time data from load cells. The PSD is a load cell display which can also be used with other strain gauge based sensors such as torque transducers, pressure sensors as well as load cells. It is a microprocessor based portable instrument designed to interface with any full bridge sensor with an output sensitivity of up to 50 mV/V. View the PSD Load Cell Indicator in more detail.
Common Uses in the Field:
As an example of use, a calibration company could use the PSD load cell indicator to interface with TEDS enabled load cells for calibration and verification in the field. Encountering different environments and situations requires such calibration specialists to take readings from many different load cells.
A single load cell display can be used for all ranges of load cells from grams to tonnes. The calibration is held on a small TEDS capable IC buried inside the load cell itself. When connected to the load cell indicator the calibration data is read from the TEDS chip and used by the digital load cell indicator to display the measured signal in the correct calibrated units. Having high resolution and stable measurement as well as the advantage of one instrument connecting to many load cells, makes the handheld load cell indicator a very suitable for this situation.
See also load cell amplifiers.
Featured Product
SensorSpace Cloud Platform Now Available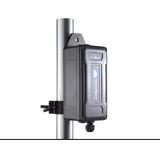 The SensorSpace Cloud platform offers browser-based access to data collected from our wireless telemetry instrumentation anywhere, at any time.
Find out more