Monitoring the Weight in 10 Grain Silos
The Problem:
A cost effective solution was needed to monitor the weight in ten grain silos. Historically this would have involved cables run from each measurement point in each silo and then back to the control room, which was not only expensive, but involved several days of installation.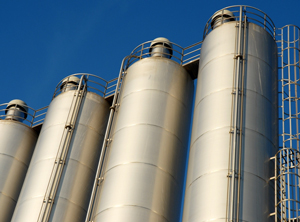 The control room needed a system which displayed the weight for each silo, high and low alarms, sum of all the silos weight and visibility of when each silo would run out of grain.
The Solution:

The solution was achieved by connecting a T24-ACM-SA to the silo's load cells; the customer was then able to view the current weight using a T24-BSu and the T24LOG100 software branded in the company colours.
Alternatively if the customer was not in the control room a portable T24-HA handheld could be used to cycle through the different silos.
Using the T24LOG100 maths functionality (and spare channels) the customer was also able to display the total weight for all of the silos and the individual weights in both pounds (lbs) and kilograms (kg).
Because the same amount of product is taken from the silos each day, the T24LOG100 software was able to calculate how many days each silo had left before it ran out. As a backup, if the silos are over filled or about to run out, alarms are set for low, warning and high levels which both provide an audible and visual alarm.
Products used in this application: