2017 Festival of Imagination Success
19 May 2017
The Beehive, a local community and arts centre in Honiton, Devon (South-west of England), was a-buzz with activity on Friday 5th and Saturday 6th May for the third Festival of Imagination, which Mantracourt was pleased to sponsor.
On Friday nearly 50 children met in the Main Hall to enjoy some exciting science workshops provided by experts in their field: A physicist from the Institute of Physics used a revolving chair to answer the question, 'What time is it really?'. A meteorologist from the Met. Office explained weather forecasting and the children were able to see themselves on the television presenting the weather. After watching a time lapse film of a construction project the children created bridges from paper under the guidance of a civil engineer from the Institution of Civil Engineers (ICE).
One of the 'Experiments with time' involved balls of different sizes rolling down an inclined plane. Children measured their pulse rate with a 16th century instrument, called a pulsilogium, and modern instruments with the help of the area mentor for the Primary Science Teaching Trust. The sundials they made in one workshop with a retired maths teacher were carefully taken home for future use. After all this excitement some children presented their own work on a festival school science project – 'Time Challenge'.
The talks on Friday covered a wide range of topics - Welsh 1940's childhood, Cadhay House, Keeping healthy throughout life, and Sundials. All the talks were well received by enthusiastic audiences. The last talk ended with examples of how to make sundials from drink cans and old CDs and most of the audience took away the instructions and materials for making one later!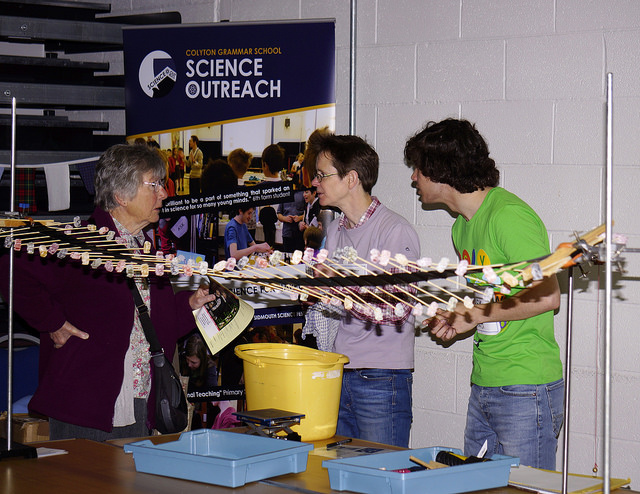 Day 2 of the festival was attended by over 250 adults and children who enjoyed a variety of hands-on activities, pop-up performances, more talks and story-telling. Both adults and children enjoyed dressing up in Tudor costumes provided by RAMM (Exeter), assembling clocks from kits under the supervision of by David Newton, Honiton's resident horologist; watching the jelly baby wave machine provided by Dr. Sarah Usher from Colyton Grammar School; measuring their pulse with the pulsilogium with Dr. Alison Trew and her capable student assistant, Emily; making decorative clocks with Tracey Ilett of Creation Station; building bridges from paper with ICE; making dissection puzzles; doing jigsaw puzzles based on pictures of places in Honiton and re-creating ancient numbers. Visitors also enjoyed solving the 'Puzzles through Time' that were displayed upstairs.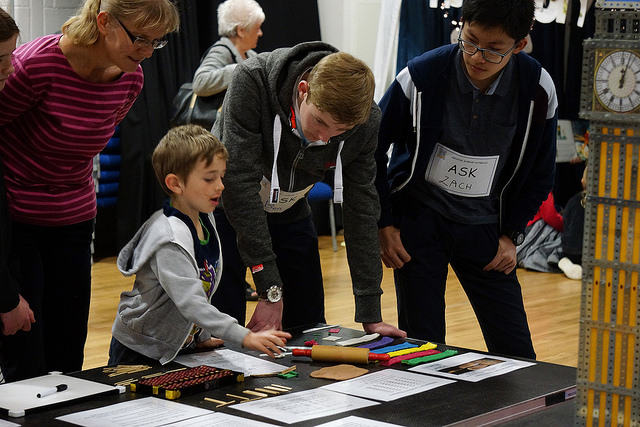 The Saturday talks – on 'Space-time', 'History of the Huguenots in Exeter', 'Weather forecasting through the ages' and 'Fun with the sun' - were enjoyed by enthusiastic audiences. The pop-up performances - Emily Miller's ukelele workshops, East Devon Dance Academy tap-dancing and Honiton Primary School's choral speaking - were very popular and much enjoyed by all.
The Festival of Imagination lived up to its name in that the imagination of both children and adults were entertained and stimulated by a wide variety of engaging activities and presentations.
Photography courtesy of Jeremy Trew