New Rapid Testing Device for COVID-19 Immunity
18 Aug 2021
Mantracourt help engineer a new rapid test to tell you if you have had COVID-19 and if your vaccine worked
Electronics specialist Mantracourt has helped engineer a new rapid test which will tell people whether they have immunity against coronavirus and whether that immunity comes from developing antibodies after infection or the vaccine. The device, which is a UK first, was designed by Attomarker, a spin-out company from the University of Exeter, and is currently in use at their Exeter-based clinic.
Attomarker, a spin-out company from the University of Exeter, has developed a new COVID-19 triple antibody testing device to tell people whether they have antibodies protecting them against COVID-19 and whether those antibodies come from vaccination or a previous infection. The rapid testing machine was developed in collaboration with Exeter-based company Mantracourt who have taken the initial design through to production, standardisation and testing.
"We started off by building the device for Attomarker, but it quickly became apparent that there were other areas where we could assist to deliver the project such as machine validation testing," explained Robert Badcock, managing director at Mantracourt. "We undertook pre-compliance testing and discovered the electronics and communication systems in the device could be improved.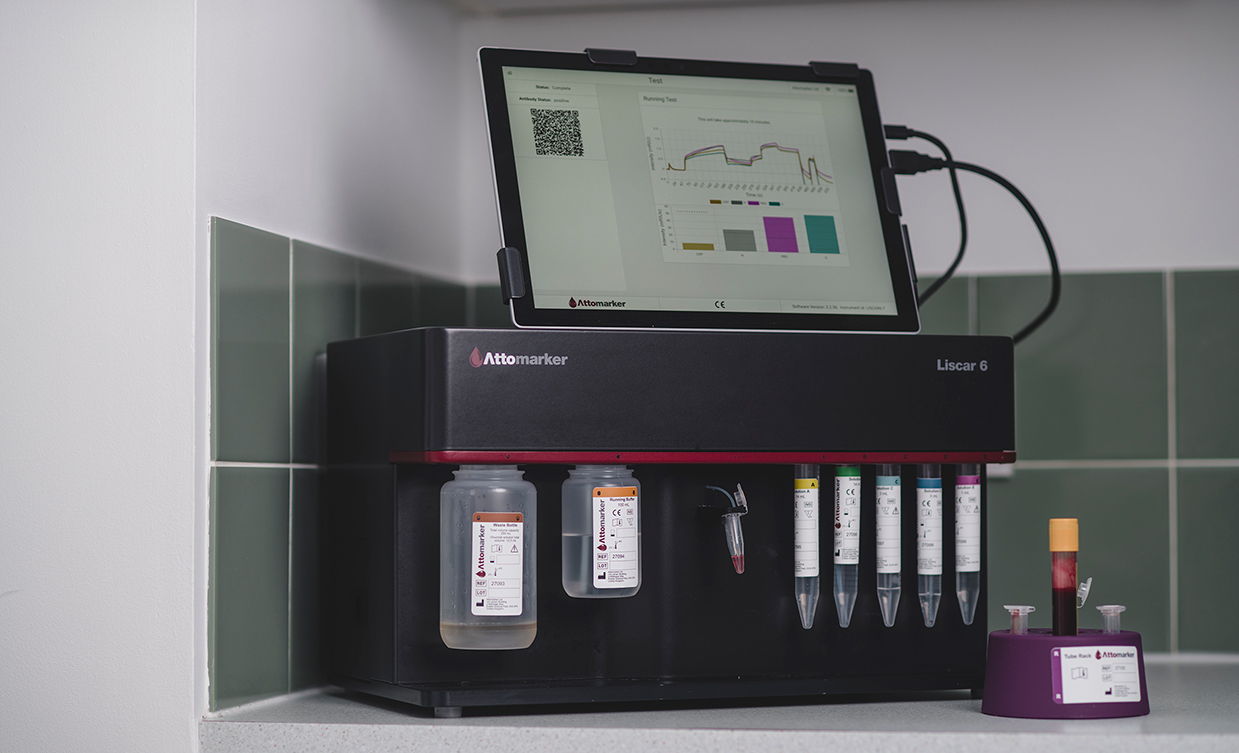 "We designed a new power distribution module, new USB components and a USB hub, as well as replacing several of the specified cables in the unit," added Badcock. "Overall, we managed to improve the kit while reducing around 60 per cent of the cost and also reduced noise, which is important from an EMC point of view."
Mantracourt's agile manufacturing capabilities meant that the company was able to take Attomarker's design and specifications and refine it thanks to its expertise in electronics and mass-production requirements.
"We took the design concept and helped Attomarker make it more suitable for mass production", continued Badcock. "Mantracourt is very used to helping our customers find efficiencies and opportunities during the design cycle which means we can quickly start manufacturing. Ultimately, our involvement in this project helped finalise the device and bring it to market much sooner".
Attomarker's seven-minute COVID-19 antibody testing device has been launched in Exeter-based clinics and is due to be rolled out across the UK as a national service to those aged 16 and over.
To find out more about Mantracourt's mechanical design expertise and how the team can help manage your mechanical production processes, visit www.mantracourt.com or call on +44 (0) 1395 232 400.