ATEX / IECEx Telemetry Strain Transmitter Module 20mV/V (X24-ACMi-QA)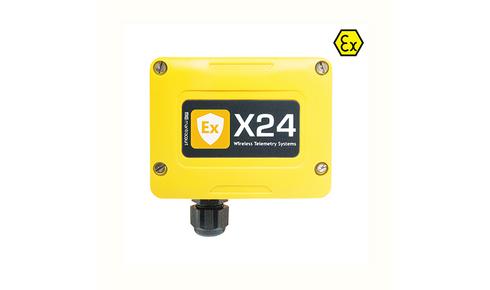 Approved for use in explosive atmospheres Zone 1, Zone 2
800 m (½ mile) range
Long battery life: 2 years at 12 sessions of 5 minutes per day; 30 days continuous
High accuracy, extremely low temperature drift
High resolution ratio-metric/bridge measurement
Up to 1 part in 400,000 (18.75 bits) noise free resolution
Bipolar input, up to +/- 20mV/V
Calibration and linearisation to engineering units
Capable of driving 4 X 350 R load cells
Up to 200 Hz transmission rates
5 V bridge excitation
Compatible with X24 receiver and T24 receivers
OEM option available with X24-QAe module
Efficient omnidirectional antenna removes requirement for external enclosure antenna
Environmentally sealed to IP67 in robust enclosure
Operating temperature range of -20 °C to +50 °C
80 mm X 62 mm X 34 mm (Not including cable gland)
Uses readily available Energizer L91 batteries
ATEX / IECEx telemetry transmitter module measures strain input and periodically transmits data for receipt by X24 or T24 receivers.
High accuracy ratio-metric input allows for calibration and linearisation for pressure, force, torque and weight measurement in explosive atmospheres.
Housed in an environmentally sealed IP67 enclosure with battery holder for two Lithium Energiser L91 AA batteries.
This flexible transmitter supports a wide range of bridge sensors and is ideal for places that are difficult for a wired connection.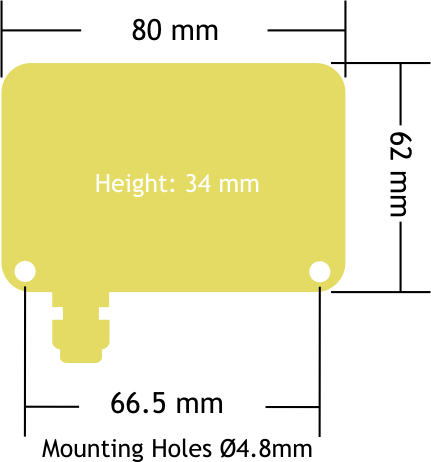 Software
T24 Toolkit : This toolkit allows configuration, calibration and testing of the T24 range of 2.4GHz telemetry products.
100 Channel Logging & Visualisation Software (T24LOG100) : For use with up to 100 channels using T24 range of sensor transmitters, view, log and browse data on demand, set visual and audible alarms. Graphics and mapping capabilities. Customised branding available. Allows remote viewing via webserver.
Product order options
| X24 | Code |
| --- | --- |
| ATEX / IECEx Telemetry Strain Transmitter Module 20mV/V | X24-ACMi-QA |
Q. What is the battery life of the X24 range?

A. Battery life is comparable with the T24 range and the battery calculator found here will give an idea of what to expect.

Q. What are the different ATEX zones?

A. Zone 0 - Permanently or frequently hazardous over long periods.

Zone 1 - Occasionally hazardous.

Zone 2 - Rarely or temporarily hazardous

Safe Zone - No hazard

Q. Can I use any AA batteries in the X24 devices?

A. No! The devices are all ATEX certified only with Energiser L91 lithium AA batteries. Fortunately these are readily available around the world.

If you are using the OEM board, refer to the manual for power supply requirements.

Q. Can I change the batteries in Zone 1 or Zone 2?

A. No! The device needs to be moved to the safe zone before changing batteries.

Q. The X24-HD looks complicated - is there a simpler option?

A. Its only as complicated as you make it. Out of the box you just need to select the group key and radio channel to receive all X24/T24 transmitters in that group.

Q. What sound level does the buzzer emit?

A. The buzzer used for overload indication and keypad feedback has an output level of 45 dBA.

Q. Is logging function available on the handheld?

A. Currently the X24 has no logging feature

Q. Do you need a QAR/QAN if wiring the X24-ACMi-SA cased transmitter to a suitably approved ATEX/IECEx sensor?

A. No, providing the instructions in the manual are followed and the 'specific conditions of use' (ATEX) or the 'conditions of certification' (IECEx) are adhered to.

Q. Are the same batteries needed for the X24-SAe if battery powering?

A. Providing the batteries have the required component approval then the choice of batteries need not be limited to the Energizer L91 Lithium Batteries

Q. Are there any limitations on resistance of the bridge?

A. The resistance of the strain gauge can be between 85 and 5000 ohms.

Q. Is the Strain gauge input suitable for both tension and compression load cells?

A. The strain gauge measurement is bi-directional ranging from -3.2mV/V to +3.2mV/V making it suitable for tension and compression load cells.

Q. Is it possible to setup the transmitter inside the EX area?

A. No, you would need to take the equipment out of the EX area to set it up or change the batteries.

Q. Is the X24-SAe available only with an ANT-A?

A. That is correct, the T24-Sae is permanently connected to the ANT-A antenna. The cable has a fixed cable length of 45 mm

Q. Will the X24-ACMi work with a special battery pack?

A. It is only certified to be used with internal AA Energizer L91 batteries.

Q. Will the X24-ACMi work with a special battery pack?

A. It is only certified to be used with internal AA Energizer L91 batteries.