Wireless Portable Display Receiver for Single Wireless Transmitters (T24-HS)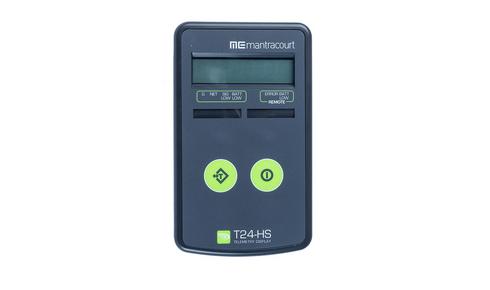 Two key operation offering tare functionality
Auto 'power on' and 'power off' of remote transmitter module
Data transmission to wireless printer capability
Battery powered 40 hours use
Simple wireless configuration and calibration
Wireless range of up to 800 m (2,600 ft)
Waterproof to IP67
Photo on left showing the available T24-HS accessory black leather carry case with clear viewing window shoulder strap
View product sheet
This wireless portable display receiver provides an 8 digit LCD reading from any of the T24 transmitter modules (strain gauge, current , voltage, temperature, pulse or potentiometer).
Click here to view & download associated free software.
The remote handheld wireless receiver module can be 'powered on' and 'powered off' automatically as the T24-HS handheld is operated. Status indicators inform the user if the remote transmitter module has input integrity problems, low battery, low signal, over range or other error.
The T24-HS display can be toggled between gross and a tared value and can optionally be scaled to change measurement units.
The licence free 2.4 GHz direct sequence spread spectrum (DSSS) radio technology offers high integrity, error free communications which can co-exist with other wireless technologies such as Wi-Fi, Bluetooth® and Zigbee®. FCC, ETSI and IC approvals
This wireless portable display receiver uses a pair of standard alkaline AA batteries and is configured using free T24 Toolkit software which runs on a PC connected to a T24 base station.
The T24-HS handheld display is typically seen in applications requiring wireless loadcell measurement or wireless strain gauge display. To learn more about these applications please see our 'Industries' tab.
*Maximum range achived in open field site at height of 3 metres (9.8 feet) above ground.

Height of displayed digits: 0.9 mm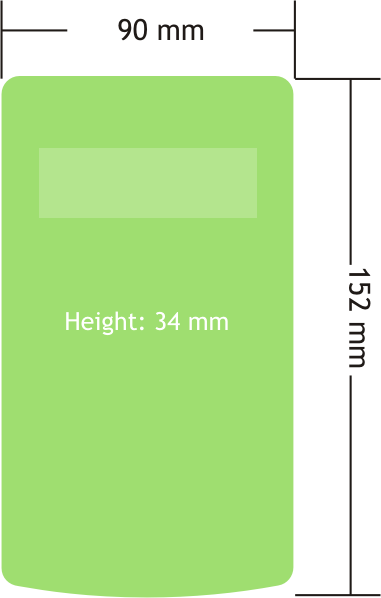 Software
T24 Toolkit : This toolkit allows configuration, calibration and testing of the T24 range of 2.4GHz telemetry products.
Product order options
| T24-HS | Code |
| --- | --- |
| Wireless Portable Display Receiver for Single Wireless Transmitters | T24-HS |
| Accessories | Code |
| Black leather case with clear viewing window with shoulder strap | TR100-CA |
These are the following industries and applications in which this product has been used:
Q: What batteries are required?

A: 2 x AA, Alkaline, Zinc or Rechargeable NiCad, NiMH.

Q: Are they IP or NEMA rated?

A: Yes to IP67

Q: What is the battery life of the handhelds?

A: 40 hours continuous use.

Q: What is the difference between the T24-HS, HA & HR handhelds?

A: The T24-HS provides easy one-to-one communication with a single transmitter module.
The T24-HA advanced provides communication with up to 12 transmitter modules providing both individual and resultant values, as well as the ability to transmit data to other output devices using the F1 function key.
The T24-HR roaming will acquire data from any number of transmitter modules in range, offering the most powerful (nearest) one for display first.

Q: What is the battery life of the handhelds?

A: 40 hours continuous use.

Q: Are they IP or NEMA rated?

A: Yes to IP67

Q: What batteries are required?

A: 2 x AA, Alkaline, Zinc or Rechargeable NiCad, NiMH.

Q: What is the difference between the T24-HS, HA & HR handhelds?

A: The T24-HS provides easy one-to-one communication with a single transmitter module.
The T24-HA advanced provides communication with up to 12 transmitter modules providing both individual and resultant values, as well as the ability to transmit data to other output devices using the F1 function key.
The T24-HR roaming will acquire data from any number of transmitter modules in range, offering the most powerful (nearest) one for display first.

For more 'Frequently Asked Questions' please see our Knowledge Centre