Monitoring Tension in a Radio Mast
During the erection of a radio mast, it was necessary to monitor the loads in the twelve guylines holding the mast in place. Once the mast had been erected, the tension in them could then be periodically monitored.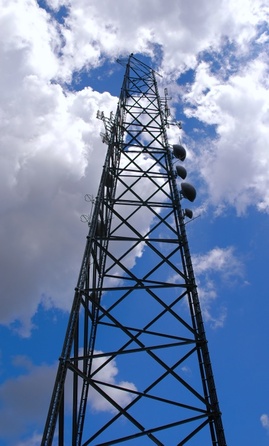 The Problem:
Monitoring the guylines with a portable battery powered hand-held display without re-calibrating the shackles at each and every reading.
The Solution:
Load shackles with built-in TEDS capabilities were used in the guylines. The TEDS shackles have the intelligence to hold the calibration details of the associated shackle. Using a TEDS enabled PSD handheld display, an operative could connect the PSD handheld to each shackle through a 5 pin Binder socket and the mating connector supplied. Once connected, the load could be easily read by the PSD using the simple peak/valley hold or gross/net keyboard functions. As calibration is not required, the handheld does not need to be informed as to what shackle it is currently measuring which prevents mix-ups occurring when taking readings. Anyone attending the mast can simply take the readings required by connecting and switching the PSD on. Packaged in a small, robust IP65/NEMA 4 enclosure, the handheld can be used in harsh environments in all weather conditions from -10 to +50C.

Products used in this application:

Strain Gauge or Load Cell Handheld Display with RS232 Data Port
PSD232