Large Format Display
The Application: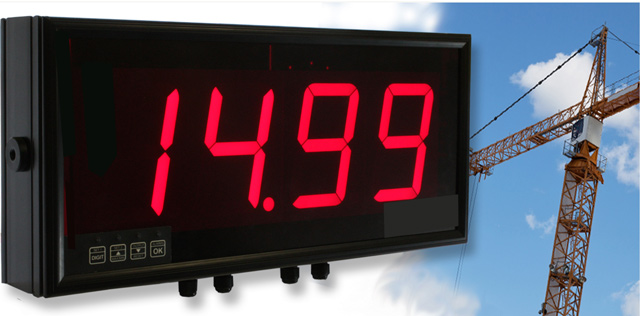 A large display was needed to read at a distance. One- way wireless solutions are often limited on battery life because of the need to physically switch on the remote sensors for the whole shift and often needing to be brought down for re-charge when not in use.
The Solution:
Using the PC based T24 Toolkit software and the T24 Base Station the acquisition devices were quickly and easily summed on the T24-LD1 large LED display, on demand. The acquisition device (T24-SA) is powered by a pair of alkaline AA cells and owing to its low power mode, the batteries will last one-and-a-half years when operated for 6 x 10-minute sessions per day. The LED display, using two-way radio telemetry, wakes and sleeps the acquisition module as required and delivers new readings at a rate of three per second. The large LED display features a Tare function. It has been designed for harsh physical and electrical environments with an IP65 / NEMA4X rating.
Products used in this application:
Wireless Telemetry Large LED Display
T24-LD1

OEM Wireless Strain Gauge Sensor Transmitter
T24-SA