Tension Sensors For The British Antarctic Survey
British Antarctic Survey (BAS) is one of the world's leading environmental research centres and is responsible for the UK's national scientific activities in Antarctica.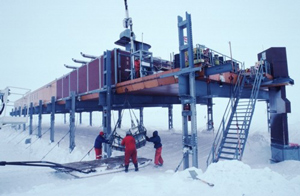 The Problem:
At the Halley Research Station, the extreme environment poses great technical problems to construction engineers, where blizzards and snow drifts eventually bury everything and where the site has gone through a number of re-positioning exercises since 1957. The tension in the bracing wires needed to be constantly monitored to keep within safety limits and to ensure that the tension is spread evenly to avoid distortion
The Solution:
British Antarctic Survey have installed 20 of Mantracourt's DSC digital strain cards at its Halley Research Station. The DSC is the miniature PCB card version of the DCell (the tiny 20mm in- cell module).
The cards are used to monitor tension in the bracing wires of the station, which is built on steel legs buried deep in the ice. To keep the structure square and true, each of the legs is braced outwards with a stainless steel wire. It is vitally important that wire tension limits are not exceeded as the temperature falls.
Each of the 20 wires are secured using a strain shackle which is connected to a DSC card housed in an environmental enclosure. The outputs of the 20 DSC cards are brought to a PC via a multi drop RS485 connection, and is managed by specifically designed software, where all 20 outputs are monitored for strain and temperature. There are facilities for calibration, logging, and printing out the tension data which can then be monitored remotely via means of communications to any area of the World.

Products used in this application: