Launch of New Wireless Telemetry Upgrades
14 Oct 2015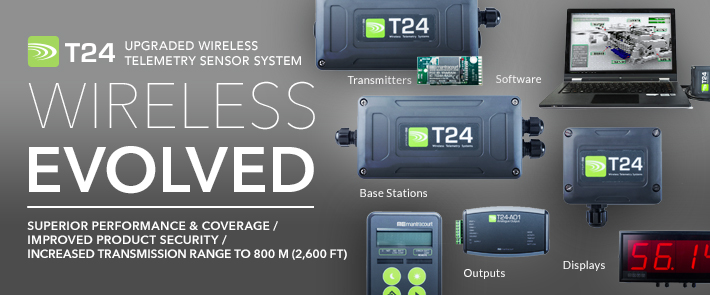 Announcing the launch of our new, upgraded version of the T24 wireless telemetry sensor system for multiple data acquisition in real time. The new T24 improvements include a 4 x increase in transmission range, improved security features and smarter diagnostics.

Having listened to the needs of OEM's and integrators who require a system designed to suit the many and varied applications they encounter, we knew modularity is a key feature of the T24 which can easily replace wired systems, reducing both installation and maintenance costs.

The new system has retained the exceptional features of the original T24 system including highly accurate, low noise electronics, long battery life of up to five years and proprietary license-free 2.4 GHz DSSS radio technology, but the new upgrades make the system even more desirable.

Latest upgrades include an increase in transmission range, allowing the system to transmit data up to 800 m (1/2 mile), far exceeding the range of other systems on the market. For added security, always a concern with wireless systems, we have improved the existing toolkit software to enable users to assign security keys to the system and have also improved functionality to allow smarter diagnostics. New features include improved monitoring of the channels and as well as the ability to check radio link quality, execute commands and view and alter parameters.

Our engineers have also redesigned the integrated radio module and antennae to improve signal strength and integrity resulting in improved performance and coverage in the challenging environments where the systems are often used.

T24 comprises a range of transmitters, interfaces, displays and output modules that can be simply and easily configured to suit individual applications. The transmitter modules have been designed to collect data from a huge range of industrial sensors including load, pressure, torque, strain, temperature, pulse, potentiometer and 4-20 mA/0-10 V conditioned sensors.

And to further add to the versatility of T24, we are also providing free data logging and visualisation software. This allows users to log up to 100 channels and build visual mapping displays. Alarms can be set that can indicate under and over range and can alert users to loss in communication, low battery and error reports. In recognition that we now work in an increasingly mobile world, we also included a built in web server that provides a summary view page to other computers, tablets and smart phones, both Apple and Android.