Power Pack 1 & Solar Panel 1 (PP1 & SP1)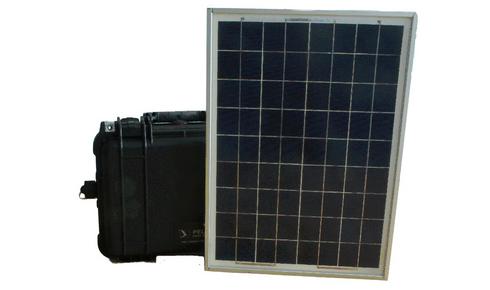 Unlimited power at 12 V at 50 mA
Rugged case
IP65 rated
33 Ahr internal battery
110-240 V charge input power
20 W solar panel
PP1 & SP1 includes fixings for pole or wall mounting of the solar panel
Supports a variety of Mantracourt products
1 year manufacturer's warranty
A high capacity battery pack with solar and mains charging providing long term 12 Volt power for field applications. The power pack & solar panel (PP1 & SP1), provide dependable off-grid power generation to support a variety of Mantracourt products.
Packaged in an IP65 / NEMA 4 sealed case with rugged waterproof connectors the PP1 has two sources of charge for the internal battery with both solar and mains power input charging. The case also features stainless steel padlock protectors for easily securing your supply on site.
The PP1 has a single 12 Volt fuse protected output. The mating connector comes pre-fitted with 5 metres of cable and bare end connections.
The SP1 solar panel features hail-proof tempered glass and closely packed polycrystalline cells, sealed into a robust aluminium frame. The junction box on the rear of the panel does not protrude beyond the frame, so installation can be simple and neat. The solar cell comes with 3 metres of cable as standard longer lengths are available on request.
The SP1 & PP1 combined are designed to provide a perpetual power supply for a 12 V system drawing an average of 53 mA, even during winter.

The PP1 power pack can also be used as a mains 12 V DC supply with battery back up.
Electrical
Min
Typ
Max
Units
Output Voltage
12
V DC
Internal Capacity
33
AHr
External Power Supply Voltage
100
-
240
Volts AC
Input Frequency
47
-
63
Hz
Cable Lengths
12V Output Cable to Bare End
5
m
Solar Panel to Power Pack
5
m
Mains Charging Cable supplied with 13 Amp plug
0.8
m
Environmental
IP Rating (& Connectors)
IP65
Operating Temperature Range. When being charged from mains min operating temperature 0°C max operating temperature if 40°C
-20
+50
C
Storage Temperature
-20
+50
C
Humidity
0
95
%RH
Case Materials
Polypropylene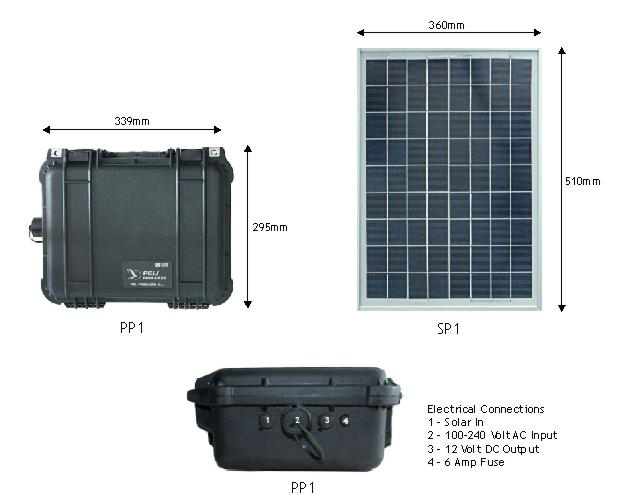 Software
No relevant software available
Product order options
T24-PP1
Code
T24 Power Pack
Power Pack
PP1
T24-SP1
Code
Solar Panel
Solar Panel
SP1
These are the following industries and applications in which this product has been used:

Wireless Wind Speed Transmitter (Anemometer)
T24-WSS
Q: On The PP1 & SP1 what is the recommended positioning of the SP1 Solar Panel?

A: It should always face true south if you are in the Northern hemisphere or true north if you are in the Southern hemisphere. True north is not the same as magnetic north. If you are using a compass to orient your panels, you need to correct for the difference, which varies with location. Search the web for "magnetic declination" to find the correction for your location. Also consider where shadows may fall on the solar panel, the panel needs maximum exposure to the sun to operate as specified.

For more 'Frequently Asked Questions' please see our Knowledge Centre