Hydraulic pressure monitoring for critical construction projects
Monitoring hydraulic pressure against the River Thames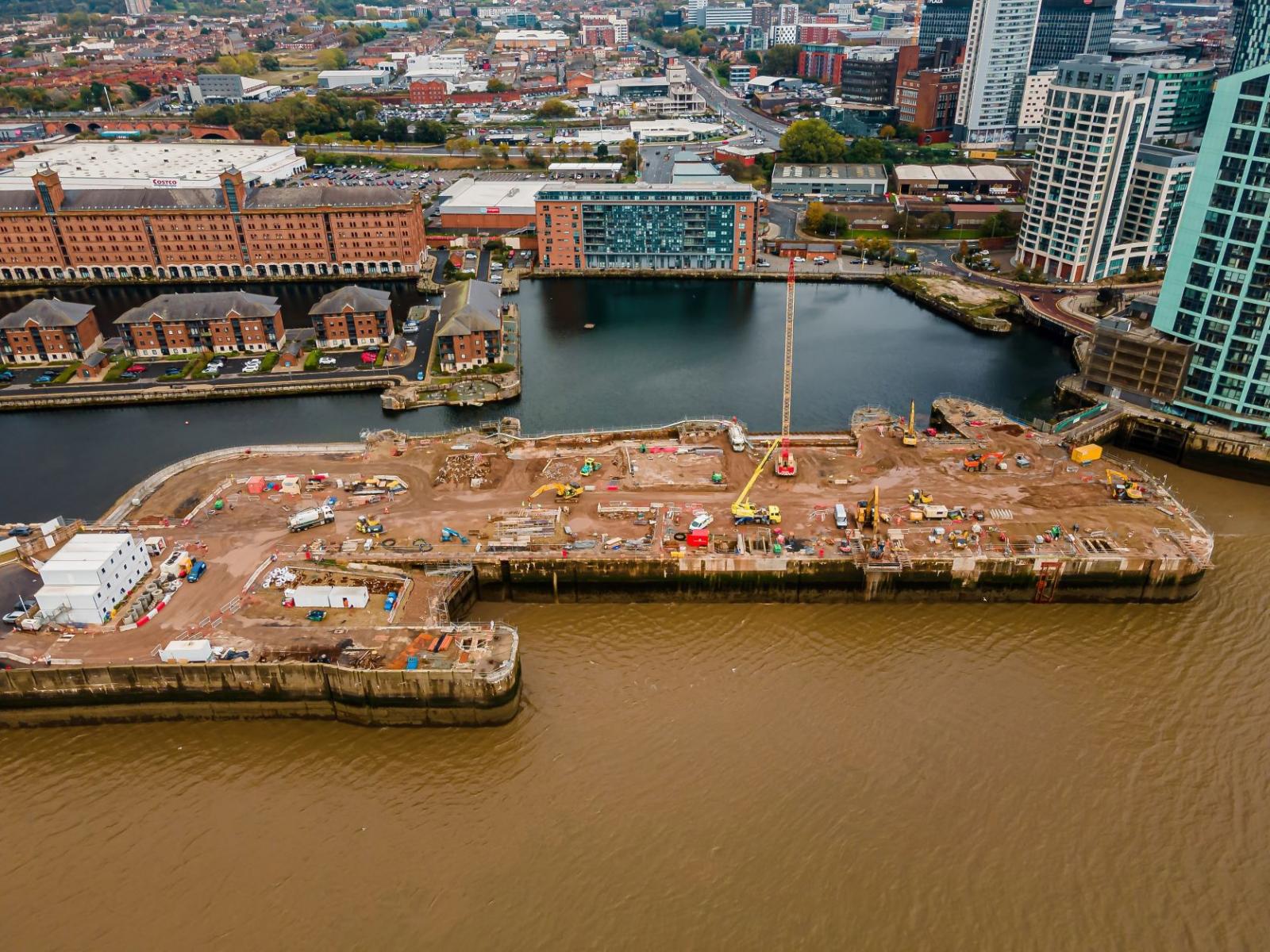 Construction projects near rivers are challenging for many reasons. Firstly, excavation can destabilise riverbanks and, secondly, excessive vibrations from machinery can threaten the integrity of existing structures. Contractors need a way of measuring the forces on a structure to prevent the foundations from cracking. A partnership between test and measurement equipment distributor Hydrotechnik and wireless remote monitoring specialist Mantracourt resulted in an innovative pressure monitoring system for hydraulic rams supporting building foundations against the forces of the River Thames.
The Thames is vulnerable to tidal surges generated in the Atlantic, which are funnelled into the English Channel and up the Thames Estuary. When surges coincide with high tides, Thames' water levels can rise by more than two metres putting extra pressure on the foundations of riverbank buildings.
Nottingham-based Hydrotechnik has supplied some of the UK's biggest names in construction, including JCB and Terex Construction, with equipment for taking pressure readings. Its reliable and cost-effective sensor solutions led a contractor working in London to approach Hydrotechnik with a query. It needed to wirelessly monitor and log pressures in a hydraulic ram's cylinders to renovate a new shopping centre safely and successfully near the Thames riverbank.
The challenge was that the hydraulic rams had already been installed in the foundations for support and hydraulic pressures were always increasing at high tides, applying more force to the structure's walls. Teams of specialists would have to manually screw pressure gauges onto the hydraulic ports just to take pressure readings. Often, these ports are found in areas underwater, so manual testing wasn't practical or cost-effective. It also couldn't be carried out frequently enough to spot any threats to the structural integrity.
"In the construction industry in particular, manual monitoring of hydraulic pressures can be risky," explains Richard Price, managing director and founder of Hydrotechnik. "The inspection valves are often placed in difficult-to-reach areas and human error can cause bleeds in the hydraulic system, which then causes uncontrolled unloads. This is why companies are starting to adopt a sensor-based approach to monitoring hydraulic pressures. But they too have their limitations.
"Yes, it's true that sensor-based monitoring provides a safer alternative to manual testing. However, there is still the issue of laying down cables and powering devices with limited grid infrastructure. On a building site, where there are many workers operating heavy machinery, installing electrical cables is neither cost-effective nor safe — power on-site is limited for this reason. Sensors also require periodic maintenance inspections, which stops construction and delays project completion," says Price.
The team at Hydrotechnik formulated a plan to integrate wireless telemetry transmitters onto the pressure sensors on the hydraulic rams, so that pressure readings could be taken in real-time, 24/7. The data would be transmitted to a base station and monitored using a PC-based data logging software.
"Installing this technology onto any site has its challenges, but this is particularly true for construction," Price explains. "On-site, you have variable weather conditions and there are often moving vehicles and bulky building materials that could block the transmission of wireless data. In some cases, whole new buildings will be erected, which will make it difficult for signals to penetrate. Therefore, the devices chosen needed to be able to transmit data over a large area, be weather-resistant and durable to withstand vibrations made by heavy machinery."
Hydrotechnik has been market-leading in the sale of temperature and pressure flow test kits for some time. So, when its customers started looking to do all of this wirelessly, the company sought help from wireless test and measurement equipment specialist, Mantracourt.
"Because Mantracourt operates in parallel worlds to us, we did have some reservations going into the partnership. Mantracourt's industry experience is in strain gauge and weighing, whereas we cover pressures in pipes, linear movement and vibration monitoring," says Price. "However, our reservations were premature, and we quickly discovered the relationship to be of mutual benefit. We worked closely with a team of electronics engineers to marry up what we do well — hydraulic monitoring — with what Mantracourt has been doing well with wireless telemetry electronic devices."
Exeter-based Mantracourt Electronics designs and manufactures signal conditioning equipment and sensor systems, specialising in wireless telemetry and cloud-based remote monitoring. The instrumentation sold for the Thames project was packaged under Hydrotechnik's Watchlog Wireless branding.
"The Watchlog system comprises of ten bridge-based pressure sensors, each bolted to a standard IP67-rated T24 transmitter enclosure," explains Tom Lilly, application engineer at Mantracourt. "Signals from these sensors are wirelessly transmitted up to 800 metres to an optional solar powered wireless range extender, which will then send the data to the base station installed in the construction site's main office. Finally, the Watchlog system uses the T24LOG100 software so users can view live data, set alarms and log data when needed."
However, it has taken Mantracourt and Hydrotechnik a few years of collaboration to fully optimise the solution. One challenge the team faced in the early days was with the settling times of the sensors slowing the efficient gathering of data.
"We were bolting conditioned sensors, that give an analogue output of 4-20 mA/0 10 V, to the enclosures of standard T24-ACMi-IA/VA transmitters. However, settling times were interfering with the accuracy of the readings and general productivity of the projects. T24 powers down after every transmission to conserve battery power and often sensors must then spend time warming up before they can take readings. The continuous process of warming up and powering down adversely affected the system's battery life and affected the noise-free resolution and stability of the data," explains Lilly.
"An option was for us to change the gain resistor in the standard T24-SA product. This increased the maximum input capacity from three millivolts per volt (mV/V) to 20 mV/V so it is compatible with Hydrotechnik's non-conditioned sensors that give a Wheatstone Bridge output. It's only a small change, but for the Mantracourt and Hydrotechnik teams it's like a brand-new product that can be used on all non-conditioned sensors."
The next design challenge was overcoming the issue of limited power supply onsite. The transmitters themselves have very good battery life and only need changing periodically because data transmission is efficient. However, receivers, such as active repeaters, need to be on all the time, giving a significantly shorter battery life.
Installing electrical power cables across a building site isn't a practical option for most contractors. Firstly, it is costly and complex to install underground wiring for a temporary building site. Secondly, overground electrical cables could pose a safety risk to construction workers. Mantracourt was able to pair the devices with a weatherproof SP1 solar panel and a PP1 power pack.
"The combination of the SP1 and PP1 provides contractors with dependable off-grid power generation 24/7 and, crucially, round-the-clock remote data collection," says Lilly. "The 12 V system can provide an average of 53 mA of power, even during the winter months, which is more than enough to power an active repeater. The battery pack is sealed in a weatherproof IP65-rated casing with rugged waterproof connectors for attaching the solar panel".
Mantracourt's T24 wireless telemetry system can also connect to SensorSpace — a cloud-based platform used by Hydrotechnik customers, allowing them to remotely monitor a live feed of data and a historical three-year data repository.
"The pressure data collected using the Watchlog software is uploaded, where it can be viewed and analysed for predictive maintenance, anomaly detection and general diagnostics," explains Price. "Our customers have benefitted from using SensorSpace to monitor and control additional sensors. For example, data from linear movement and vibration sensors can be viewed online using the same customisable dashboard as hydraulic pressure.
"A site manager can see an entire overview of the site and can be notified via SMS or email when a problem is detected. For the Thames project, the dashboard can also be used to monitor other variables such as the increase in the applied force against the building's foundations.
"We're pleased to have found such a constructive partnership with Mantracourt. The quality of service from its engineers is unrivalled, and we continue to collaborate on wireless monitoring solutions for our customers across the construction sector. We've already placed more orders for wireless and handheld devices and have no doubt that there will be an opportunity to develop new solutions in the future," concludes Price.
To find out more about Hydrotechnik's Watchlog system, visit Hydrotechnik
Products used in this application:
Power Pack 1 & Solar Panel 1
PP1 & SP1

Wireless Sensor Transmitter Enclosure
T24-ACMi

OEM Wireless Strain Gauge Sensor Transmitter
T24-SA