Potentiometer to wireless telemetry converter (T24-RA)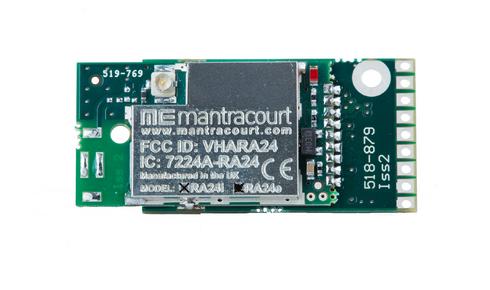 T24-RA for potentiometer related measurement
Miniature PCB for fitting inside sensors
Low power mode
Remote power 'on' and 'off'
High speed 200 updates per second
Transmits on licence free 2.4 GHz
Simple wireless configuration and calibration
Antenna options giving up to 800 m (2,600 ft) range
Photos on left showing case options available of either mini, for integration and standard
View product sheet
The T24-RA OEM wireless potentiometer sensor transmitter is a high performance wireless device designed for the collection and processing of resistance related measurements. The T24-RA measures resistance and periodically transmits it. Between transmissions the device is optionally placed in a power saving sleep mode to conserve batteries.
Click here to view & download associated free software.
Miniature in size, the string pot (potentiometer) device transmits on license-free 2.4 Ghz, avoiding local radio interference to ensure data integrity and security.
Data is provided in real time at variable speeds with a direct line of sight range of up to 600 or 800 meters which can be extended with the use of high gain antenna's and repeaters. View our range of antennas here.
The OEM wireless potentiometer sensor transmits to a range of receivers including handheld indicators, digital displays, analogue and serial outputs, PC display and wireless printer and has various powering options.
The T24-RA is configured and calibrated (either by applying known inputs or by table entry) using free T24 Toolkit software which runs on a PC connected to a T24 base station.

Also available in a selection of IP rated enclosures. See T24-ACM-RA, T24-ACMi-RA and T24-ACMm-RA.
See the battery life of your wireless sensing system using the Battery Life Calculator.
Module transmits and receives giving:
1. Full error detection and correction
2. Ability to switch to low power modes
3. Calibration & configuration via radio telemetry
4. Ability to be switched from sleep to operating mode via radio
5. Calibration stored within the module
6. Remote battery check
*Maximum range achieved in open field site with the T24 acquisition module at a height of 3 metres (9.8 feet) above ground and T24-HS held at chest height pointing towards the acquisition module. Specification at 3V supply at 25°C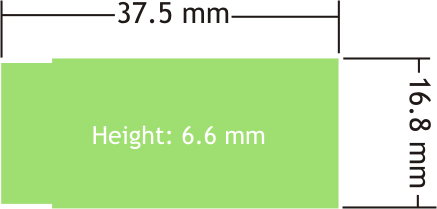 Software
T24 Toolkit : This toolkit allows configuration, calibration and testing of the T24 range of 2.4GHz telemetry products.
T24 Quick View : Version 2.2.0 This product allows you to view and log data from the T24 range of 2.4GHz telemetry acquisition modules. Only works with T24-BSu USB base station. What Does It Do
100 Channel Logging & Visualisation Software (T24LOG100) : For use with up to 100 channels using T24 range of sensor transmitters, view, log and browse data on demand, set visual and audible alarms. Graphics and mapping capabilities. Customised branding available. Allows remote viewing via webserver.
Product order options
| T24-RA | Code |
| --- | --- |
| Potentiometer Transmitter with fitting for External Antenna | T24-RAe |
| Potentiometer Transmitter with Internal Antenna | T24-RAi |
These are the following industries and applications in which this product has been used:
Q: Can I use a rotary input?

A: The T24-RA is designed to work with potentiometer inputs that pass from 0-100%. To avoid the T24-RA providing numbers that are outside the calibrated output the module has a rotary limit. This is the value at which the input is expected to move between the maximum and minimum values.

Q: Can I just measure a resistance?

A: The T24-RA is a potentiometer input which means it can not measure resistance directly yet if wired into a potential divider circuit, with a known resistor value, the change in resistance can be measured.

Q: How do I calibrate the device?

A: The T24-RA module has a 9 point linearization and calibration feature which allows users to calibrate the percentage output into whatever units are required. For example, calibrating a linear potentiometer would be performed by entering the distances that the plunger you want to measure moves and calibrating at 9 points over that range.

Q: What output does the device provide?

A: The T24-RA is factory fitted and calibrated to provide an output between 0-100% as the input value varies between the negative and positive excitation.

Q: What software is provided with the T24 devices?

A: All devices are supported by the T24 Tool Kit which allows users to configure all devices from the T24 range as well as view and log data from transmitters modules in range. The software can also be downloaded directly from our website.

Q: How many devices can operate on one radio channel?

A: Many devices can operate on the same radio channel depending on the sample rate of the transmitter modules present in the system. The radio channel is capable of supporting up to 200 data packets per second.

Q: Can PC software gather data from many devices?

A: Yes, Mantracourt provides freeware for logging up to 100 inputs to one base station, in addition the free Windows DLL and COM driver can be used to gather data through a customer's own PC software.

Q: What limits the RF range of the devices?

A: Any metal surface will reflect 2.4 GHz radio waves, therefore in a sealed metal box, no RF will escape. However by providing a suitable RF window the signals will propagate out. Water and concrete also limit the RF range.

Q: What Frequency does the system operate on?

A: Licence free world wide 2.4GHz, although this frequency is used by other equipment, the T24 range has been tested with Bluetooth, Zigbee & WiFi devices without conflicts.

Q: Is it possible to use wireless range extenders within T24 network?

A: The T24-AR wireless range extender which can be added to the system can propagate a signal around corners and obstacles. This unit can also double the effective range - but only once.

Q: Is the system point to point?

A: Yes, however the modules may also operate in many to one (such as multiple data transmitters modules communicating with a base station) and one to many (such as a data transmitter module supplying data to multiple handhelds and displays).

Q: What sensors would these inputs cover?

A: Any sensor that provides a voltage, current or ratio metric interface can be connected to an transmitter module, including load cells, inclinometers, accelerometers, displacement LVDT, pressure, potentiometer, pulse, temperature, humidity, ph, shock.

Q: What is the communication protocol?

A: Proprietary protocol based on a 802.15.4 chip. This allows the T24 range to co-exist with Bluetooth, Zigbee & WiFi devices without conflicts.

Q: What are the sampling rates of the transmitter modules?

A: The T24 standard transmitter modules (SA, IA, VA, RA, TA, PA) sample from 0-200 updates/sec. The T24-SA fast transmitter modules are fixed at 2,000 updates/sec.

Q: What is the resolution of the transmitter modules?

A: The noise free resolution for a sample time of 10 milli-seconds or less is 15.5 bits for the T24 SA, 12.5 bits for the T24-VA, 14 bits for the VA and 12.25 bits for the T24IA.

The T24-PA's accuracy % input error @ 1 Hz is 0.15% and for the T24 RA the accuracy is 0.01% of the full scale.

With increased sample times resolution can be increased up to 18.75 bits for the T24-SA.

Q: What is the supply voltage for the transmitter modules?

A: 3V for the transmitter modules and handheld displays. Other modules in the range take 9-36 V.

Q: How are the modules powered?

A: Two standard AA batteries or the T24-BC1 Battery Charger, which provides a re-chargeable power supply using a Li-ion Cell. Find out the battery life of your system using our Battery Calculator.

Q: Can power be provided to a sensor?

A: Yes, all transmitter modules feature a 5V supply which is a excitation voltage (with exception of T24-RA which has 2.5V supply).

Q: How is the strain gauge transmitter module calibrated?

A: The modules are factory calibrated to 2.5 mV/V which can be custom calibrated and linearised over up to 9 points by using the T24 Toolkit. The T24-SAf has fixed factory calibration and cannot be linearised.

Q: What is the difference between the "i" and "e" versions of the transmitter units?

A: The 'i' modules all feature an on-chip integrated antenna. The 'e' modules are fitted with a miniature UFL connector which can be used with any of the antenna options available; the T24-ANTA (PCB antenna) or T24-ANTB (fixed 90 degree Whip antenna) or T24-ANTC (flexible whip antenna) or T24-ANTD ('puck' antenna fitted with a 0.6m cable and RPSMA connector and supplied with a 100 mm RPSMA to UFL adaptor cable) or T24-ANTE ('puck' antenna fitted with a 100 mm cable and UFL connector).

Q: How many transmitter modules can be acquired by the base stations?

A: Each base station can use one of 15 channels. From that selected channel a base station can collect data simultaneously from any number transmitter modules depending upon the frequency of readings being provided by the transmitter module.

Q: What are the input ranges of the T24 transmitter modules?

A: T24-SA 2.5mV/V calibrated strain gauge based measurement; T24-VA 0-10V, T24-IA 4-20mA, T24-TA pt100 sensor input, T24-RA potentiometer 500 to 100000 Ohms and T24-PA 0.5Hz to 3kHz.

For more 'Frequently Asked Questions' please see our Knowledge Centre