Wireless Telemetry Dongle Base Station (T24-BSd)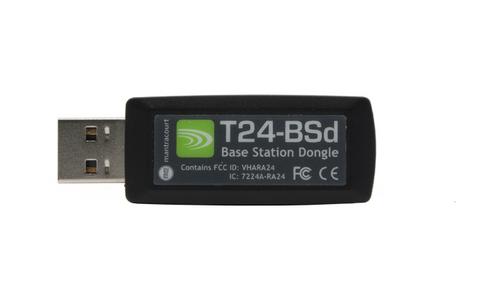 Provides wireless data from T24 transmitter modules
Up to 500 m (1,600 ft) wireless range
Configures any T24 Telemetry module via USB
Portable device which is designed for laptops and tablets
Ideal for portable logging using 100 Channel logging and viewing software
IP50 rated enclosure dimensions 45 x 19 x 11 mm
The T24 wireless telemetry dongle base station (T24-BSd) is the smallest in our base station range and enables you to connect to the wireless telemetry moduels at a line of sight range of up to 500 metres.
It provides a portable solution with no wiring that makes it ideally suited for laptops and tablets that run a full version of Windows.
It draws power from the USB bus and therefore no further components are required to configure and control remote devices from a PC. It is offered as an alternative to the T24-BSue base station which provides up to 800 m range
Software
T24 Toolkit : This toolkit allows configuration, calibration and testing of the T24 range of 2.4GHz telemetry products.
100 Channel Logging & Visualisation Software (T24LOG100) : For use with up to 100 channels using T24 range of sensor transmitters, view, log and browse data on demand, set visual and audible alarms. Graphics and mapping capabilities. Customised branding available. Allows remote viewing via webserver.
Product order options
T24-BSd
Code
Wireless Telemetry USB Base Station
USB Dongle Base Station
T24-BSd
These are the following industries and applications in which this product has been used:
Q: How do I communicate with the USB device?

A: The T24-BSd Dongle can connect to a PC by plugging into a USB port and does not require an external power supply as they appear as a 'single unit load' i.e. they draw <100mA.

Appropriate USB drivers must be installed which are automatically installed with the T24 Toolkit software.

Ensure the Toolkit is installed before plugging in the T24-BSd device.

Q: What is the range of the Dongle Base Station?

A: 500 m (1640 ft) wireless range

Q: How do I calibrate the device?

A: The BSd does not require calibration but it can be used to calibrate other T24 devices. The BSd is configured using the free T24 Toolkit Software, which is available to download from our website.

Q: How do I get the software for the T24-BSd?

A: The free Toolkit software is downloadable from the Mantracourt website

Q: What is the T24 toolkit used for?

A: The T24 Toolkit is a configuration and calibration tool designed specifically for configuring T24 modules. This toolkit allows configuration, calibration, data recording and review and for parameter management of the modules.

Q: What are the dimensions of the Dongle?

A: Total dimensions are 58 mm x 20.5 mm x 11 mm

Q: What is the IP rating of the enclosure

A: The T24-BSd enclosure has an IP50 rating

Q: Can I connect multiple base stations to one PC?

A: You can only have one T24-BSd connected to any one PC. There are more complex setups possible with a T24-BSi base station.

Q: What are the differences between the four base stations?

A: T24-BSd - Our smallest and most cost effective Dongle USB base station has a range of 500 m and is ideal for use with laptops and tablets. The enclosure is IP50 rated.

T24-BSu - This USB base station has a range of 500 m and and is desktop or wall mountable. The enclosure is IP50 rated.

T24-BSue - Our extended range USB base station has a range of 800 m and is housed in an IP67 rated enclosure.

T24-BSi - This has an 800 m range, the same range as the BSue, but is housed a larger enclosure (also IP67). As well as a USB interface it also support RS232 and RS485.

Q: Is it possible to mix sensor type readings sent to a base station?

A: Yes, you can have different sensor type reading sent to a base station.

The T24 protocol is essentially a broadcast protocol and the receivers can handle as many transmitters as it takes to fill the bandwidth on a particular radio channel. This essentially means that you can monitor as many transmitter modules as you like as long as the sum total of those transmissions does not exceed about 200 samples per second.

The only limitation on the base station is that it can only monitor one radio channel. So as long as all the modules are on the same channel there is no problem.