DSCUSB Toolkit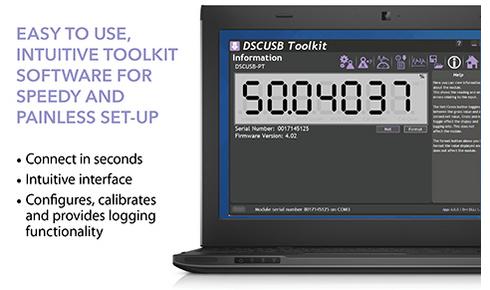 About Freeware
This Software title is licensed as FREEWARE. This means it is completely Free to use and can be copied and distributed freely as long as the following conditions are met:
The source files on the original media cannot be changed in any way and must be distributed in full including any soft documentation.
The software must not be packaged as an end user application. It must only be used as a configuration tool.
There must be no charge for the software itself, although a charge may be made for duplication and/or media.
Component software parts may not be used in third party applications without prior consent from the software author.
Version 04.06.00 2023
What does it do?
This toolkit allows configuration, calibration, logging and parameter management of the DSCUSB and DSCUSB-PT modules.
You can explore the software without a device connected.
Features & benefits:
Viewing of input with annunciators for integrity and range errors.
Two point auto calibration by application of known weight.
Two point certificate calibration from manufacturer loadcell certificate.
Trend chart.
Setting System Zero and under and over range limits.
Select measurement rate and filter settings.
Save device settings including user calibration and ability to restore to same or different USB DSC modules.
Log input value to a CSV file at up to 100Hz which can be analysed in Microsoft Excel.
OEM level temperature compensation and linearisation calibration.
Ability to lock OEM settings from tampering.
Minimum hardware specification:
Windows 7, 8, 10, 11 (32 bit software runs on 32 bit or 64 bit OS)
1GHz processor
512MB RAM
Mouse or other pointing device
USB port
Change History
3.0.09 Improved accuracy of Filter Level representation in engineering units.
3.0.10 No longer lists modules that cannot be communicated with.
3.0.11 When trying to log to an invalid or open file a warning is now displayed.
4.0.0 Now supports DSCUSB-PT. Improved detection of connected modules. Because of name change previous versions should be uninstalled before installing v4.0.0
4.1.0 Issues restoring saved configuration files in non english OS regional settings now fixed.
4.1.1 Incorrectly reported noise free resolution under 10 samples per second.
4.3.0 Fixed issues with inaccurate multimedia timer.
4.3.1 Added Hold button for display.
4.5.0 Added millibar to unit conversion.
4.5.0 2023 Updated FTDI driver package
4.6.0 Fixed unit conversion for MN