ATEX Certificated Miniature Load Cell Amplifier (ICA5ATEX)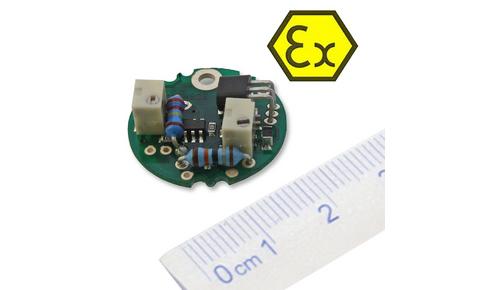 ATEX certificated amplifier for hazardous zones 0, 1 & 2
Miniature PCB format for fitting inside sensors, 19 mm diameter, 7.6 mm height
2 wire current loop 4-20 mA output
Low interaction between the trimmers makes calibration fast and easy
High speed 1000 Hz
User selectable span and zero resistors
Robust design, high noise immunity & reverse polarity protected
Option of an in-line enclosure ATEX certified load cell amplifier
(shown on thumbnail image on left)
ATEX Intrinsically Safe Miniature PCB Format for Hazardous Zones 0, 1 & 2
The ICA5ATEX is a high performance ATEX certified miniature strain gauge/load cell amplifier designed for operation within Hazardous Zones 0, 1 & 2. It is the ideal option for OEM customers wishing to embed the ATEX amplifier within the sensor.
The high performance amplifier provides 2-wire 4-20 mA current loop output and connects in-line for a range of signal conditioning for strain gauges, load cells, pressure and torque transducers. Intrinsically safe to EN60079-11 (previously EN 50020) standards.
Designed for fitting in-line to strain gauge sensors such as load cells, the amplifier can be housed within a stainless steel IP67 NEMA 4 EMC protected enclosure, such as the ALA5 which is supplied with 1 m strain gauge cable and 5 m output cable.
Please note: the ICA5ATEX is approved for incorporation into load cells and other enclosures.
ICA5ATEX 4-20mA Current Output Amplifier

Electrical & Environmental
Parameter
Min
Typical
Max
Units/Notes
Supply Voltage Range
9.0
24
28
Volts
Operating Temp Range
-40
-
85
ºC
Storage Temp Range
-40
-
85
ºC
Reverse Polarity Protection
-30
-
-
Volts
Measurements
Bridge Excitation
1.05
1.11
1.16
Volts Note 1
Bridge Impedance
350
1000
5000
Ohms
Bridge Sensitivity
0.5
2.5
55
mV/V Note 2
Output Load
-
-
300
Ohms Note 3
Bandwidth
DC
-
1000
Hz
Zero Adjustment
-
±2
-
%FR Note 4
Span Adjustment
-
±8
-
%FR
Linearity
-
0.02
-
%FR
Temperature Stablity at 2.5 mV/V
Zero Temp Stability S
-
0.001
0.005
±%FR/ºC
Span Temp Stability S
-
0.007
0.014
±%FR/ºC

FR=Full Range (16mA)

Note 1: 1000 Ohm load cell – Typically 0.53V for 350 Ohm cell
Note 2: Set by calibration resistor
Note 3: Limited by the 300Ω barrier impedance
Note 4: 1000 Ohms load cell – change R1 to suit other load cell impedances.

Note: Recommended bridge impedance is 1,000 Ohms

Note: The voltage between either of the power supply connections and the load cell shield should not exceed 50V. Any leakage will be greater than 10M Ohms.

Environmental
Storage Temperature
-40 to +85ºC
Operating Temperature
-40 to +85ºC
Relative Humidity
95% maximum non condensing
CE Environmental Approvals
European EMC Directive 2004/108/EC

Software
No relevant software available
Product order options
| ICA5ATEX | Code |
| --- | --- |
| ATEX Certificated Miniature Load Cell Amplifier | ICA5ATEX |
These are the following industries and applications in which this product has been used:

ATEX Certified 4-20 mA Load Cell Amplifier
ALA5
Q: What do the ATEX markings mean?

II 1 G Ex ia IIC T4
Tamb = -40°C to +85°C
CE0891 TRAC09ATEX1xxxX

ATEX Marking details

Explosion protection
II
Equipment group: industrial
1
Equipment category: very high protection
G
Hazard: gas atmosphere - zones 0,1 and 2

Certification Code details

Ex
Explosion protection
ia
Intrinsic safety according to EN60079-11 (previously EN 50020)
IIC
Hydrogen/Acetylene gas group
T4
Temperature Classification – surface temperature <135°C

Q: Is a barrier needed for Zones 1 and 2?

A: Yes, a barrier is needed for all ATEX installations. Please contact us for more information.

Q: Can I embed the OEM ALA5 device into my own loadcell?

A: Yes, the ICA5ATEX amplifier is designed to fit into a pocket in a certified loadcell.
Please note: OEM customers must hold a notified body Quality Assurance Notification (QAN) and ensure that the load cell and amplifier assembly is submitted for ATEX certification by an appropriate body.

Q: Are there different mV/V settings available?

A: The sensitivity can be set between 0.5 mV/V and 55 mV/V by changing the SPAN (gain) resistor. Please enquire with our Sales team for more info.

Q: Can I extend the output cable on the ALA5?

A: Yes by use of an ATEX approved junction box.
Please refer to the manual for the EC examination certificate detailing the maximum allowable cable capacitance and inductance.

Q: What is the maximum cable length for the load cell connections?

A: Maximum is 2 metres.

Q: What Strain Gauge parameters is the ALA5 designed for?

A: Designed for a 1k bridge, however, 350R can be used at the expense of noise and drift performance due to the reduced excitation voltage on the bridge. It is factory set for 2.5mV/V.

Q: What is ATEX?

A: The term 'ATEX' comes from the French word 'atmosphére explosibles'. It is the name commonly given to the framework for controlling explosive atmospheres and the standards of equipment and protective systems used in them. It is based on the requirements of two European Directives. One that applies to equipment manufacturers and another for its end users, both Directives came into effect on 1 July 2003.

The ATEX regulation removes the need for separate testing by joining the technical and legal standards for manufacturing of equipment that may potentially be used in explosive atmospheres .

ATEX regulations apply to all equipment intended for use in explosive atmospheres, whether electrical or mechanical, and also protective systems. Manufacturers must ensure that their products meet essential health and safely requirements and undergo appropriate conformity procedures.