Strain Gauge to USB Converter (DSCUSB)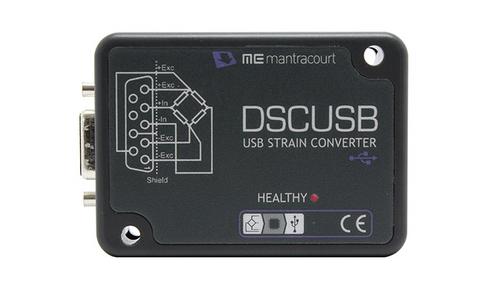 High stability providing superior performance
USB strain gauge interface – device appears as a virtual com port
Simple & easy to connect to your strain gauge sensor
Multiple devices can be used with one PC
Supplied with 1.5m USB to Micro USB lead
Free DSCUSB strain gauge to USB converter toolkit software
Compatible with most load cells and sensors
Non-expert maintenance
Windows driver DLL's available
OEM pcb versions available (shown on thumbnail image on left)
The DSCUSB strain gauge to USB converter is a compact, high performance strain gauge digital signal conditioner with USB connectivity aimed at applications which require high-accuracy measurement repeatability.
A rugged ABS IP50 enclosure makes this USB load cell converter suitable for all environments. Simply by plugging the DSCUSB into a PC, data can be extracted from most strain gauge bridge input sensors and acquired by software which allows data manipulation removing the need for amplifiers, filters & multimeters. No additional power supply is required as the power is drawn from the USB bus.
The strain gauge to USB converter (DSCUSB) is ideal for one to one interface, however you can connect multiple DSCUSB's to the same PC/Laptop via a suitable hub
Ideal for all strain gauge bridge based sensors including load, weight, force, torque, pressure & displacement, the device simply plugs into your PC where data can be acquired and manipulated by accompanying software.

Typical applications for the DSCUSB USB load cell signal converter will be those requiring simple sensor connectivity in desk top settings such as test & measurement, R&D and laboratory environments.
An optional temperature sensor module (DTEMP) is available which will enable an advanced 5-point temperature compensation of measurements.
The USB load cell signal converter is also available as OEM pcb modules - please see product sheet for more information. A 4.5mV/V version of this device is also available.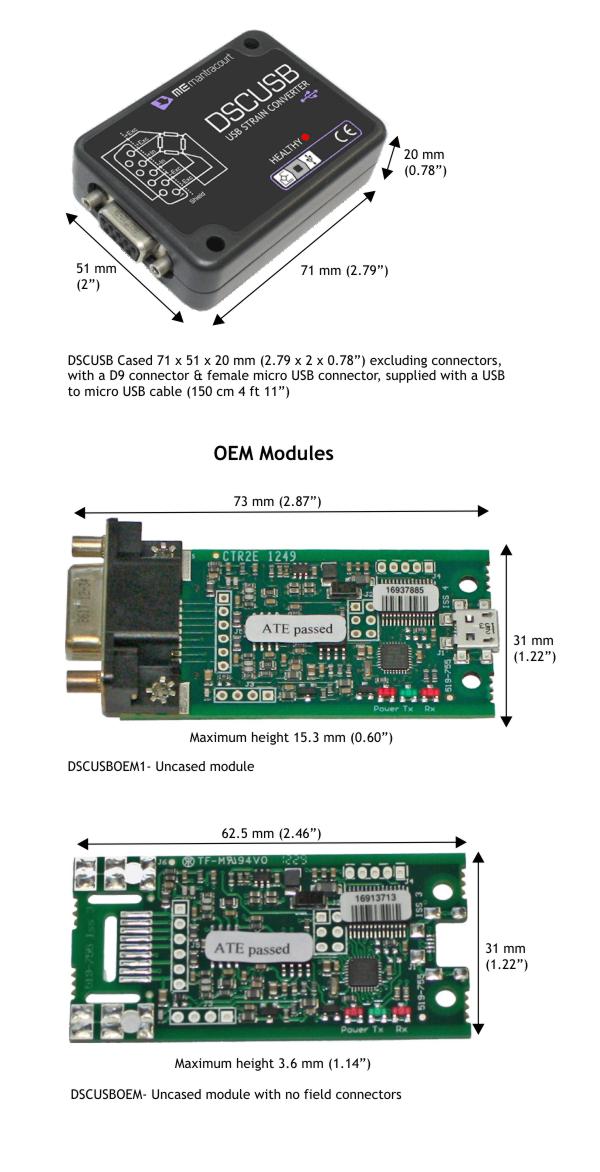 Product order options
| Options | Code |
| --- | --- |
| Strain 3mV/V to USB Converter | DSCUSB |
| Strain 3mV/V to USB Converter with field connectors - no case | DSCUSBOEM1 |
| Strain 3mV/V to USB Converter OEM - No case or field conns PCB only | DSCUSBOEM |
| Strain 4.5mV/V to USB Converter | DSCUSB-A |
| Strain 4.5 mV/V to USB Converter with field connectors - no case | DSCUSBOEM1-A |
| Strain 4.5 mV/V to USB Converter OEM - No field conns PCB only | DSCUSBOEM-A |
| Strain 3mV/V to USB Converter (Unlabelled) | DSCUSB-UL |
| DIN Rail Mounting Kit* | DSCUSB-DIN |
| Accessories | Code |
| Digital temperature sensor module for wiring to DCell/DSC | DTEMP |
These are the following industries and applications in which this product has been used:
Q: How do I communicate with the USB device?

A: Using a simple 'Virtual Com Port', the DSCUSB communicates as if the device is connected to a serial port. The device addressing allows multiple devices.

Q: Is temperature sensing available on the DSCUSB?

A: An optional temperature sensor module (DTEMP) is available which will enable an advanced 5-point temperature-compensation of measurements.

Q: Is there Linearity compensation in the DSCUSB?

A: Advanced 7-point linearity compensation available as standard.

Q: How stable is the DSCUSB device?

A: 10ppm/°C basic accuracy (equates to 16 bit resolution).

Q: Are there self-diagnostics capabilities?

A: Continuous monitoring on the DSCUSB for faults such as strain overload, over/under-temperature, broken sensors or power failure. All fault warnings are retained on power-fail.

Q:What are the output options of the DSCUSB?

A: We currenly only offer the device in ASCII protocol.

Q: Tell me about DSCUSB low current

A: Functions as a 'Low Power Device' i.e. draws less than 100mA (one unit load) when connected to a 350 Ohm Bridge.

For more 'Frequently Asked Questions' please see our Knowledge Centre